Zorba's Taverna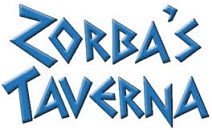 contact:
address: 4801 Linton Blvd

city: Delray Beach state: FL zip: 33445
phone: CLOSED
RESTAURANT PROFILE
Atmosphere: Casual Dining
Dress Code: Casual
Cuisine: Greek and Mediterranean
Brunch: Yes
Delivery: No
Take-Out: Yes
Children's Menu: No
Outdoor Seating: Yes
Boat Accessible: No
Pet Friendly: No
Location: 4801 Linton Blvd, Delray Beach, FL 33445
Price: $5 - $25
Phone: CLOSED
Hours of Operation:
Mon-Sun 11:00 am – 10:00 pm
Accepts Reservations: Yes
Payment Options: All Major Credit Cards Accepted
Offers: Event Hosting Services. Private parties, events and special requests are welcomed.
Specials: No
Valet Parking: No
Catering: No
Private Parties: Yes
Entertainment: No
Happy Hour: No
---
Meet Chef and Owner of Zorbas's Taverna in Delray Beach Bobby Orfanos. Bobby was born and raised in New York and more specifically in the kitchen! He grew up cooking in his father's restaurants in Manhattan, giving him the lifelong experience of cooking. He also previously owned several pizzerias, in New York City, for fifteen years, before moving to sunny South Florida. Bobby owned and operated Bikini Bob's sports bar and grill in Pompano beach and Fort Lauderdale beach from 2000-2005 where he supported numerous local charities and participated in the donation of food and beverage for the Markham Park toy run. He was the opening/executive chef at Taverna Opa, in West Palm Beach, for one-and-a-half years, and he also cooked at Taco Vida, in West Palm Beach, for one year. Additionally, he consulted on numerous restaurants, in Palm Beach County, including Wild Olives by Todd English in Boca Raton; Wild Olives Cafe by Todd English in West Palm Beach; the Garden State Diner in Hypoluxo; and Nana's Diner in West Palm Beach. Growing up in a Greek household Orfanos knows Greek food and with the help of his father Tasso Orfanos always cooking alongside him has without a doubt perfected every single family recipe that they put before you at Zorba's Taverna. Every day you can come in and get your favorite Greek specialties from Avgolemono (lemon chicken soup), Spanakopita (spinach pie), Pastichio, Rack of Lamb, Stuffed peppers, Gyros, you name it Papou has it ready! Zorba's Taverna has been a great asset to the Delray community already with a loyal base of customers who frequent daily. Be sure to come visit Zorbas you surely will not be disappointed! OPA!
---