Kevro Art Bar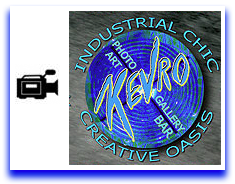 contact: Kevin Rouse
address: 166 SE 2nd Avenue

city: Delray Beach state: FL zip: 33444
phone: 561.274.0007email: Kevro@KevroArt.com
url: KevroArt.com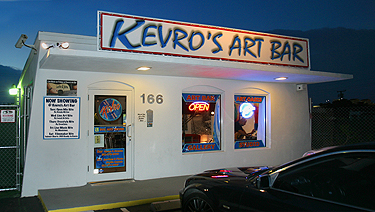 ---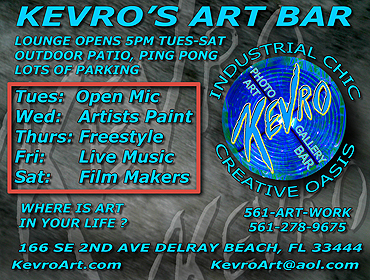 On Saturday, September 8th, BocaRaton.com had an ARTrageous time at Bloomingdale's for their storewide showcase for contemporary art and creative talent. Bloomingdale's Art Exhibit at Town Center Mall in Boca Raton, Florida showcased Interactive Art & Reception with Delray Beach, Florida local Artist, Kevro. Shoppers inside Bloomingdale's had a chance to be creative with their own design, on the popular Little Brown Bag, which is Bloomingdale's signature shopping bag. From kids to adults, everyone had a great time painting.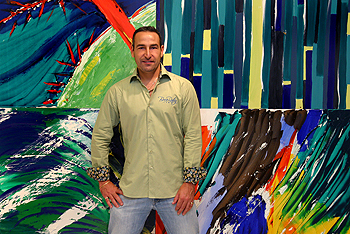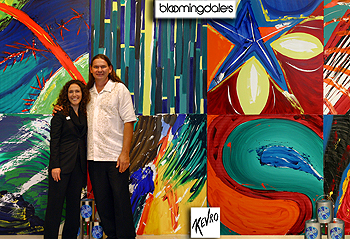 ---
THE BIG LEO BASH at KEVRO'S ART BAR
(An artisitc Multi-Media
extravaganza party with a zodiac theme)

The party theme was for the Zodiac sign, LEO and BocaRaton.com was on hand filming this amazing Art event on Friday, August 17th. The breezes of the South Florida weather made this a great night to be outside. A large crowd showed up for drinks (Leo's drank half price with proper I.D.), music and ART all night long. Kevro's Art Bar was THE place to be for this great event.
THE KEVRO ART BAR
166 SE 2nd Ave
Delray Beach, FL 33444
2 blocks South of Atlantic Ave.
Right by the train tracks
(561) ART-WORK
(561) 278-9675

MySpace.com/KeveroArtBarInDelrayBeach
---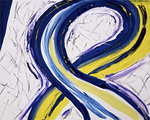 You don't have to know a cheese knife from a palette knife to know that wine and mingling are what set apart an opening from any other day at a gallery. Photographer and painter Kevin Rouse got the bright idea to give his gallery that permanent, opening-night vibe by getting a liquor license and a larger gallery space, and, voilà, Kevro's Art Bar was born. Moving from the north to the south side of downtown Delray Beach, he traded up from traditional gallery space to "art oasis," including an outdoor patio, a photography and video studio, and a huge "tar art" free-for-all black-top "canvas," where other artists are invited to spread (or spray) some paint. Formerly just a blighted industrial property, the space has not only been transformed but also transcended, so much so that the gallery/bar could be called an art installation. Large-scale (4' x 6'), large-format nature photography, like the enchanted tree hammock in Briny Breezes (whose scale makes you feel like it's a portal to another world), dominate the north wall of the industrial-chic space. The exhibit is ever-changing, partially because all the works are for sale. But the space's shifting nature is also thanks to two large plasma TVs above the bar that display the artist's portfolio, including his vivid digital art. While maximizing your art experience, these and the lightbox in the corner provide a color-drenched ambience.
The wedge-shaped couches lend themselves to the "opening night" vibe by looking more like primary-colored cheese. Like a jeweler's case, the glass bar showcases art work; its aluminum and African mahogany base raises the bar above its practical function to the sculptural realm. Because his aim is to make this a meeting ground for creative types, Rouse invites other artists to bring in DVDs of their artistic creations, whether they're vacation photographs or art film shorts. Patrons can also contribute to their experience by creating ceramic tiles for the magnetic mosaic behind the bar or by picking up the public electric guitar and letting their best riffs rip. (Ongoing at Kevro's Art Bar, 166 SE Second Ave., Delray Beach. Call 561-274-0007
KEVRO • New Times Broward-Palm Beach Arts & Entertainment Newspaper
---

Artists create their dream, blighted industrial site: their largest collaborative canvas to date - creating an urban arts oasis. A place created by artists, for artists.
Artist Kevro, 44 is a graduate of the Art Institute of Fort Lauderdale & Artist Deb, 42 is a graduate of Florida Atlantic University in Boca Raton. Chicago & New Jersey found each other in Delray Beach. Together, living, working & realizing dreams in Delray Beach. Here's a slice of their back story:
"After leasing retail art space for six years in downtown Delray Beach, we purchased a blighted industrial compound just down the street & moved from 168 NE 2nd Ave to 166 SE 2nd Ave". We have retail space, with the additional feature of an enclosed compound, industrial warehouse space & plentiful parking. The commercial property is located in the Central Business District, Central Core, which allows for the most height & density downtown. We are encircled by developers. The immediate area is poised for explosive growth. We envision people movers on the neighboring FEC railway to connect downtowns. The graffiti trains are busy inspiring a photo essay to come.
Recently Art Business News Magazine International featured our 'from ghetto to gallery' story and Cygnus Media reported while on location: "Kevro, an idealist notion not unlike the institution created by ballet dancer Mikhail Baryshnikov in Manhattan for artists." February issue of PMA Photography Magazine International, the world's largest: 'Keeping up with Kevro.' ... Kevro is creating an art bar, art gallery, photography studio & outdoor oasis to paint. Finally, an industrial chic place for artists to hang together.
Deb says, "All creative expression is art." Kev says, "Photography is the art of the new millennium." We agree that placemaking is key & creativity takes courage.
---
Grand Opening Night At Kevro
BocaRaton.com was seen at the grand opening of Kevro located in downtown Delray Beach, Florida. All attendees were able to paint on the canvas to create a one of a kind piece of art.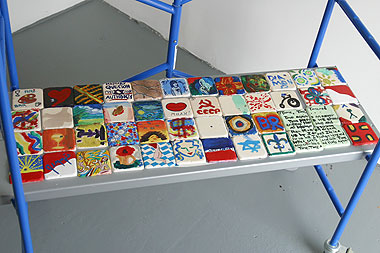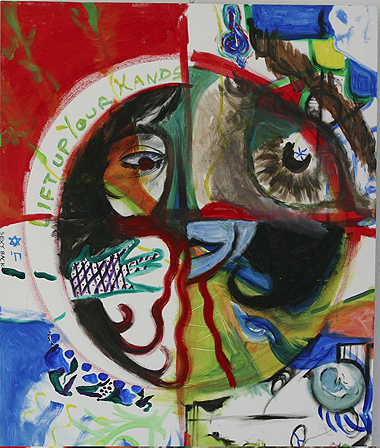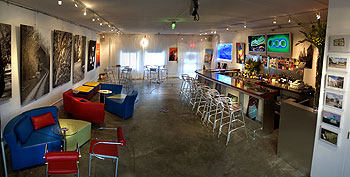 Kevro Art Bar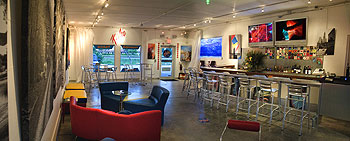 Kevro Art Bar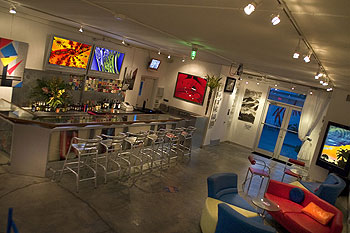 Kevro Art Bar
Kevro Art Bar
166 SE 2nd Ave
Delray Beach, FL 33444