MEET
THE RESOLVERS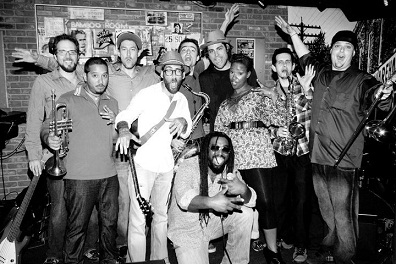 CONTACT US
South Florida Reggae Band
Phone: 561.504.5061
TheResolvers.com
Info@TheResolvers.com
SEARCHING FOR A LOCAL BAND?
Reggae Bands For Hire!
Call 561.504.5061 Today!

The Resolvers Erase Preconceptions About Reggae Music With Their New Release, Big Band Reggae
The new EP debuted at #5 on Billboard's Reggae Chart and Is Now Available On Most Digital Outlets
Reggae music is a unique and evolving genre, drawing on influences from many types of music. In the 31 years since Bob Marley's death, his legacy has inspired generations of musicians all over the world. With this broader awareness of reggae, many variations and sub-genres have evolved and spread, reaching people in diverse regions and cultures across the globe. Today's reggae music is borrowing from an expanded base of traditions, drawing on influences across multiple genres of music. In the United States, mainstream artists such as Sublime and No Doubt innovated through the 1990s, breathing life into growing scenes and fan bases. "Bradley Nowell was like the Elvis of reggae," says Resolvers guitarist Ron Eisner about Sublime's legendary lead vocalist. "He borrowed a lot from traditions that already existed and applied them with new life."

The Resolvers understand and embraces the role of musical tradition in the evolution of reggae today. Their own unique sound, which they coined "Big Band Reggae," draws influences from classic Jamaican roots reggae, rock steady, and ska along with New Orleans jazz, funk, and soul. Their live show has been described as, "explosive," with up to 10 musicians on stage, including 3 lead vocalists, and a full horn section. The large ensemble delivers a sound that would be almost impossible to achieve with lesser numbers.
Each individual member brings his or her personal influences and inspirations to the collective sound. Two brother & sister vocalists Ojay and Sahara Smith, reggae music is a family legacy. Their father, Ernie Smith, is the well-known Jamaican reggae singer best known for his baritone voice, and classics such as "Bend Down", "Ride On Sammy", "Life Is Just For Living", and "Duppy Gunman" among others. From time to time, the group can be heard pulling from the Ernie Smith catalog at live shows, paying tribute to these roots in a very personal way. Since the band formed in 2007, they have expanded from 5 to 10 members, including the addition of the "Dirty Hamsa Horn Stars". The four member horn line features Devon Heinrichs on tenor sax, John Provenzano on alto sax, Danny Larghi on trombone, and David Burgos on trumpet. It should be noted that saxophonist Anthony Casamassima performed in place of John Provenzano on the EP. The "Dirty Hamsa Horn Stars" are known to bring a tremendous energy to live performances, and their presence has served as a key addition in the development of The Resolvers' distinctive sound. Four of the band's original five members remain actively playing in the band five years later, with guitarist and vocalist Ron Eisner, percussionist and vocalist Ojay Smith, keyboardist Dean Fishback, and bassist Steave Nieratka. The band's original drummer, Nate Largent, is featured on the EP, but recently passed the drumsticks along to new drummer Omar Kahn.
Over the past five years, the band has built a local following with South Florida music lovers by consistently delivering sincere & energetic performances. Having recently evolved into a ten-piece powerhouse, The Resolvers continue to expand their reach to the national and world stages. The bands first official release, an EP entitled H'amsa, debuted in 2008 prior to the addition of a horn section. Since the H'amsa, The Resolvers' has evolved and expanded their signature sound, which has been described as powerful and multifaceted. "Music is a creature of change and it seems only natural that a particular genre of sound would evolve over time and turn into something completely different. The Resolvers new album, Big Band Reggae, comes along and completely erases any notion of what you thought reggae music was capable of," wrote reggae rock blog ThePier.org contributor Ashley Allred in her recent review of the EP.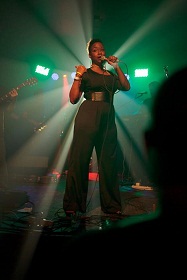 READ THE PIER'S ENTIRE REVIEW HERE
The new EP was originally released exclusively at live performances a few weeks before the digital release. It debuted at number 5 on the Billboard Reggae Charts through initial record sales at live shows alone. Considering the fact that the EP was not available online until March 20th, this marks a significant accomplishment for the band. "It's really quite an accomplishment that the album hit the charts before dropping digitally. The idea was to reward the fans that were coming out to the shows with the music first. The fans responded very positively and the support really made a difference," says Mango Music Management's David Broderick. The recent chart activity should serve as an early indication that the Florida reggae scene is ready to make broader waves. In fact, over the past 12 months the band has been working the Grammy winning reggae quintet Inner Circle, known in the mainstream for their hits "Badboys" and "Sweat", and other local artists including 4th Dimension, Jahfe, Mixed Culture, Roots Shakedown, Skafyah, Spred The Dub, and Stampede Movement. The collective movement has been called The Reggae Wave. This project, recorded at Miami's own Circle House Studios, was recently released as a FREE compilation and features remixes of two of the EPs tracks, "Itchy Mind" & the band's lead single "Out Of My Frame".
For a limited time, you can also download the version of "Out of My Frame" featured on the EP for FREE at www.OutofMyFrame.com

The Resolvers maintain a demanding performance schedule of more than 120 shows a year. With the EP now available online, the band looks forward to having their music connect with audiences around the world. The band recently kicked off a Florida mini-tour that included a performance with 10 Time Grammy Award Winning artist Stephen Marley in Sebastian, as well as appearances in Vero Beach, Tampa, and their hometown Deerfield Beach. Over the course of the next month, the band has scheduled appearances in Delray Beach, Melbourne, Sebastian, Lake Worth, and Deerfield Beach, while also holding down their weekly Wednesday night artist in residency at The Funky Biscuit in Boca Raton.
About Mango Music Management: Music has the power to move, inspire, heal, and bring people together like no other art form. This fundamental truth was the inspiration for Mango Music Management. The exclusive management team for The Resolvers, Mango Music Management was founded in 2011 and is quickly emerging as a leader in artist development and general music management services. Visit Mango Music Management on the web at www.gomangomusic.com or direct email inquiries to info@gomangomusic.com. For more information about The Resolvers, including news, live performances, media, and free downloads, visit the bands official home on the web at TheResolvers.com