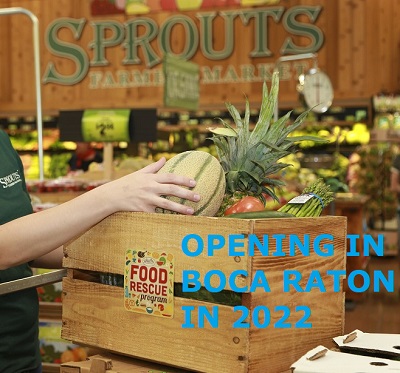 Sprouts Farmers Market, the organic grocer, is going to be opening in west Boca Raton's Shadowwood Square Shopping Center on the NE corner of 441 and Glades Road. Shadowwood Square address is 9789 Glades Road Boca Raton, FL 33434. Sprouts has secured 25,837-square-foot space and has taken are 15 year lease according to the retail plaza's owner, Stephen Bittel, who heads Miami Beach-based Terranova.

The longer held lease tenants include Regal Cinemas, Bed Bath & Beyond and Old Navy. The west Boca Shopping Center boasts a total of 220,426 SF of retail strategically located at the corner of the most desirable intersection in Palm Beach County.

The visibility has 90,000 cars passing daily and the local population has over 190,000 with an average household income of $98,000. There is a mix of local, regional, and national tenants in west Boca.

Some fun facts about grocery stores and the competition.
It must be said that this could certainly put a sizeable crack in the $800 billion U.S. grocery industry. Competition is strong around this area. There's a Fresh Market on the NW corner and Publix on the SE corner, a soon to be opening of Amazon Fresh in the new Uptown Boca Shopping Center, and south of it has Aldi's on 441 and east of it down Glades has an Publix Greenwise. So, that's some stiff competition surrounding this location.

To see the Uptown Boca Apartments in Boca Raton, please call Russell Spadaccini, REALTOR® Signature Real Estate Finder at 561.338.7594 or email Russell@BocaRaton.com.


Subscribe to BocaRaton.com's YouTube Channel

2022's Best Events!
BocaRaton.com Announces
Event: 9th Annual Boca Burger Battle, A Grilling Affair!

Details: The grills will heat up this summer on Saturday, July 16th from 6 PM to 10 PM in Sanborn Square Park in downtown Boca Raton as we host the Top Burger Contenders to compete at this year's 9th Annual A Grilling Affair! Chefs will be battling their best burgers to compete for Judge's pick for Best Grill Master, while the Community Votes with their wooden chip for Best Battle Burger Champion. Guests will experience UNLIMITED grilling sensations from Florida's Top Chefs and will enjoy unlimited Craft Beers, Summer Wines, Seasonal Spirits. We'll keep the energy high with Live Entertainment all night long! Be sure to bring extra cash to shop in the Retail Bazaar. During the evening be sure to head up on stage to take pictures of our team of Grill Master Judge's. Tag them and us and you could win free tickets to our next Affair!

Dates & Times:Saturday, July 16th, 2022
VIP Admission - 6 PM to 10 PM
General Admission - 7 PM to 10 PM


Event website: BocaBurgerBattle.com

Location: Sanborn Square Park
72 N. Federal Highway, Boca Raton, FL 33432

For More Information: Call - 561.338.7594
---