Meet your new
cosmetic dentist
, Dr. Robert Adami of Designer Dental. Dr. Adami is your
Palm Beach dentist
that proudly serves Delray Beach and Boca Raton including Palm Beach County & Broward County for over 20 years! If you want to get away from the usual dentist office and instead, want to encounter more of a spa-like experience, then Designer Dental is your
South Florida dentist
office to visit. Dr. Adami will craft you a beautiful, radiant, confident smile where you will feel great about yourself. Not sure if Designer Dental is the right choice for you? Then call up for your FREE consultation where Dr. Adami will conduct a complete dental exam and will then recommend the appropriate treatment options for you. No obligation to you. Your new
Boca Raton cosmetic dentistry
is just a phone call away!
---
SERVICES OFFERED
Dental Implants
Digital X-rays
Veneers
Bonding
Root Canal
White Fillings
Teeth Cleaning
Sedation
Zoom! 2™

Dental Exams
Smile Makeovers
Teeth Whitening
Crowns & Bridges
Periodontal Gum Care
Invisalign (teens/adults)
Traditional Porcelain Veneers
Tooth Jewelry
This modern 2,100 sq.ft Palm Beach Dental office caters to you for the utmost comfort and care specializing in full range general and aesthetic cosmetic dentistry for your entire family. Relaxing in a dentist office has never felt better. Designer Dental offers coffee and tea, custom iPods with soothing music, aromatherapy, massage chairs, blankets and even pillows to help you relax and have an enjoyable visit during your treatments. Your experience at Designer Dental will be like no other. It is truly a different atmosphere from other dental offices. Dr. Adami has dedicated his level of care to his staff to make certain your visit will not be your last at this South Florida cosmetic dentist office.
Call Today For Your
FREE CONSULTATION
and DENTAL EXAM!
call 561.637.4443
16235 State Road 7
Delray Beach, FL 33446
Ph. 561.637.4443

Hours of Operation:
Monday: 8:00 AM - 5:00 PM
Tuesday: 8:00 AM - 5:00 PM
Wednesday: Noon - 8:00 PM
Thursday: 8:00 AM - 5:00 PM
Friday: 8:00 AM - 5:00 PM
Saturday: 9:00 AM - 1:00 PM
Mini Implants In 30-Minutes!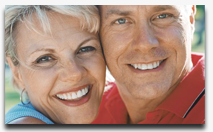 Are you in the process of switching dentists? Do you have dentures and do not want to go through that long process of a new dentist refitting you? Then no worries, Dr. Adami can refit you're existing dentures in just "one office visit" and in only 30 minutes with a painless placement of Mini Implants.
We all love a new smile right?
With Designer Dentals sate-of-the-art services and technology, Dr. Adami can literally show you, your
NEW SMILE
before it's done with their amazing Digital Imaging technology! This is
advanced cosmetic dentistry
at its best! Call
561.637.4443
for more information.
Contact Us To Learn About
Discounted Exams, Cleanings
& Complimentary Teeth Whitening
call 561.637.4443
---
BOCA RATON
SEDATION DENTISTRY
Sedation dentistry provides you a way of getting your dental work done while being totally relaxed and completely comfortable.
Sedation is achieved with the use of various oral sedatives (i.e. triazolam, midazolam, lorazepam and hydroxyzine) and nitrous oxide or what is commonly called laughing gas.
Sedation is NOT general anesthesia.
Conscious sedation dentistry allows you to be conscious and responsive during treatment. You will be very sleepy and relaxed. You will be able to verbalize your needs and wants. You will be monitored during your entire appointment with blood pressure and pulse oximetry. Someone will be with you at all times. You are never alone.
The sedatives used are Amnesiacs – you will have little or no memory of the experience.
The sedatives used are to relax your nervous system so you will feel little discomfort and will probably not need any pain medication post-operatively.
You will continue to relax the rest of the day and into the evening and a responsible companion should be with you until the following day.
Please feel free to call us with any specific questions you may have regarding our Sedation process 561.637.4443
---
SPECIAL ONLINE PROMOTIONS
DENTAL EXAM & CLEANING ONLY $65.00
CALL TODAY!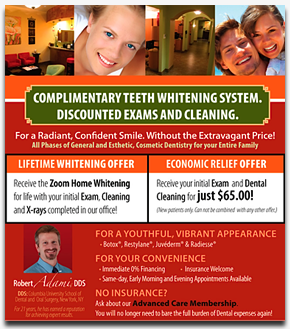 Click Above For Your Special Internet Promotion!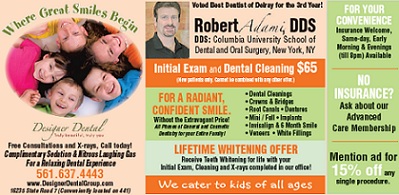 Click ABOVE For Your Special Online Promotions!
---
Tooth Jewelry!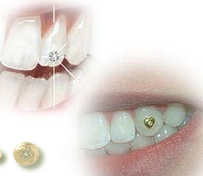 It's easy, It's fun, It's affordable! Tooth Jewelry is another form of expression to add to your magnificant smile. It is safe and non-tonic 18K gold and or diamonds designed to affix to your teeth exactly like an orthodontic brace. Choose your design or create your own...it's up to you! It will not harm your teeth and is done in less than 10 minutes. You can even apply the teeth jewelry to porcelain teeth, such as crowns and veneers. Call 561.637.4443 for more information.
---
BOCA RATON COSMETIC DENTISTRY
DR. ROBERT ADAMI, DDS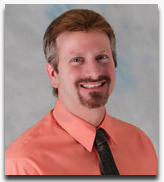 Dr. Robert Adami has over two decades of clinical experience. Dr. Adami earned his Doctor of Dental Surgery (DDS) degree from Columbia University School of Dental and Oral Surgery. Dr. Adami then went on to complete a 2 year residency in general dentistry at Nassau County Medical Center, where he was also a former instructor. Dr. Adami is an active member of some of the most respected organizations in the Cosmetic Dental field, including the Academy of General Dentistry, American Dental Association and the Florida Dental Association.
---
Designer Dental makes dental care convenient for you! Designer Dental proudly serves Delray Beach, Boca Raton and the surrounding areas of Palm Beach County & Broward County for more than 20 years.
Dr. Adami and his friendly professional staff at Designer Dental look forward to seeing you. To make a New Patient Appointment, please call 561.637.4443.
For Your Convenience:
Designer Dental has immediate 0% finanacing. Insurance is always welcome. Same-day, early morning and evening appointments are available.
No Insurance?
Looking for cosmetic dentistry insurance? Call Designer Dental today and ask about their "Advanced Care Membership" program where you will no longer need to bare the full burden of dental expenses again!
COME IN TODAY FOR
YOUR FREE DENTAL EXAM
and FREE CONSULTATION!
CALL 561.637.4443


16235 State Road 7
Delray Beach, FL 33446
Ph. 561.637.4443
Web: DesignerDental.com