New York Comedy Club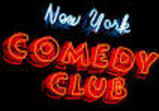 contact:
address: 8221 Glades Road

city: Boca Raton state: zip: 33434
phone: 561.470.6887 fax: 561.451.2720
email: Contact@NYCCBoca.com
url: NYCCBoca.com

2 - 4 - 1
TICKETS
Coupon Code: BocaRaton.com
New York Comedy Club in Boca Raton features all of the biggest names in comedy. From Famous Comedians to Local Comedians come and see why everyone is rolling on the floor laughing.
Mention BocaRaton.com when reserving your tickets and receive 2-4-1 Tickets to your next show. Walk-ins welcomed, Reservations Preferred. Purchase your New York Comedy Club Tickets.
New Comedy Line-ups happen every week. With Featured Headlining Comedians on Fridays and Saturdays and Local Comedians on Thursdays. With the last Thursday of every month featuring an Open Mic Night for anyone to walk up and see if the got what it takes to make the crowd laugh.
Don't Forget to treat your stomach to some Nacho Supreme as an OPENER or just go straight to the Black Angus Burger to fill you up. Beer, Wine, and Specialty Drinks are available from their Full Service Bar. View NYCC MENU for additional details including prices.

View New York Comedy Club Boca Raton Calendar


8221 Glades Road
Boca Raton, FL 33434
Fax: 561.451.2720 E-mail: Contact@NYCCBoca.com