BocaRaton.com Med Spa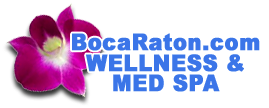 contact:
phone: 561.338.7594
WELCOME TO
BOCARATON.COM
WELLNESS & MED SPA
Restore | Renew | Repair | Remove | Revive
Age Spots
Skin Toning/Tightening
Fat Removal
Wrinkles | Fine Lines
Acne Scars
Scar Resurfacing
Burns
Stretch Marks
Sun Damage
Spider Veins
Scar Resurfacing
IPL Therapies | Hair Removal
Laser Hair Restoration

Facial Redness | Rosacea
Weight Loss
BOTOX® & Aesthetic Fillers
Vascular | Pigmented Lesions
Wounds | Infections
Neurological Conditions
Hyperbaric Oxygen Therapy
Cellulite Reduction | Removal
Hormone Replacement Therapy



(click coupon to send email)
Be one of the FIRST 100 people to email us with your contact information and you will receive a generous discount with your first visit to one of our Boca Raton Wellness & Med Spa centers!

BocaRaton.com Med Spa...
Where your ultimate comfort is our top priority!
From the moment you arrive, our licensed, professional staff pampers you in our private treatment rooms. Whether you desire to improve your appearance, heal a post-operative condition or manage your weight — our wellness and medical spa services help you to restore, renew and repair:
Burns
Cellulite
Age Spots
Acne Scars
Weight Loss
Spider Veins
Sun Damage
Hair Removal

Stretch Marks
Hair Restoration
Scar Resurfacing
Wounds/Infections
Wrinkles/Fine Lines
Post-operative Scars
Neurological Conditions
Facial Redness/Rosacea
Vascula/Pigmented Lesions

SERVICES OFFERED
Heal & Improve
Hyperbaric Oxygen Therapy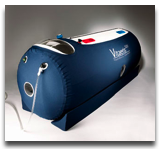 Did you know you can boost your body's natural ability to heal itself through Hyperbaric Oxygen Therapy? This non-invasive, proven therapy creates a healing environment by utilizing an increase in atmospheric pressure to help the body incorporate more oxygen into every cell of your body.
BENEFITS: Improve your health and well-being! Research has shown that Hyperbaric Oxygen Therapy can shorten post-operative recovery time, boost energy and promote youthful aging. It has also proven to be effective in the treatment of numerous neurological conditions such as autism, stroke and traumatic brain injury. Get back to your active life faster and healthier with this revolutionary treatment.

Body Shaping
CelluPulse™ Cellulite Reduction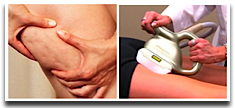 Realize the impossible! Reducing your unsightly cellulite is now reality. CelluPulse is the most advanced, non-surgical method for cellulite reduction. Reshape your body with this non-invasive, measurable treatment. By applying acoustic pressure waves to targeted body regions, such as thighs, buttocks, abdomen and upper arms, CelluPulse therapy will help you look and feel incredible.
BENEFITS: You will be the "talk of the town" with visible, long-lasting improvement in your skin texture. As blood circulation is enhanced and collagen production is stimulated. The results? Inches will melt away with improved firmness and restored natural elasticity of the skin. From toning and tightening to washboard abs, CelluPulse will help you shape and sculpt those problem areas in ways you've only dreamed of.

Rejuvenate
Palomar StarLux® Intense Pulsed Light (IPL)
Therapies/Hair Removal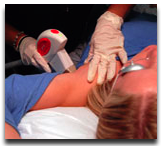 Just imagine... no more shaving or waxing! Say "goodbye" to excess hair, sun damaged skin, acne, vascular lesions, age spots and uneven pigmentation with this cutting-edge, non-invasive technology.
BENEFITS: You will wonder why you waited so long to have IPL therapy! Take years off your appearance with long-term results, achieved with minimal discomfort.

Restore
Halo Elite Folli-Cure™ Laser Hair Restoration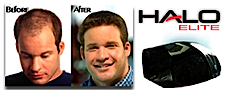 The future of laser hair restoration is here! Men and women now can reclaim a full head of hair with Folli-Cure — the most powerful laser hair restoration therapy available today. This breakthrough, pain-free, non-invasive treatment stops hair loss in its tracks as it generates new hair growth, and it is the only drug-free hair loss treatment approved by the FDA.
BENEFITS: Regain your confidence and self-esteem with a full, thick head of hair. It takes only two, weekly 12-minute sessions of Folli-Cure laser therapy to give you noticeable results in 30 days, and it stops the progression of hair loss in the vast majority of patients.

Achieve
Medically Managed Weight Loss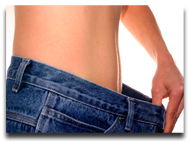 What are you waiting for? Looking good and feeling healthy can be achieved with a medically managed weight loss program. You can reach your weight loss goals through personalized management of every aspect of your program. Through consistent, one-on-one monitoring, you will feel more energetic and excited about your life.
BENEFITS: Accomplish your healthy weight goals with the winning combination of a medically managed weight loss program that provides the healthful living guidance and personal support you need to permanently lose weight.

Refresh
BOTOX Cosmetic® & Aesthetic Fillers

Take years off your expression! Refresh and rejuvenate your complexion with BOTOX and aesthetic fillers. Fine lines and wrinkles will disappear with these safe, non-surgical treatments that relax facial muscles... smoothing your skin and giving you a youthful glow.
BENEFITS: With little or no discomfort, BOTOX reduces neck and facial wrinkles for up to six months. You will love how it smoothes the lines around your eyes and on your forehead, improving the skin's ability to resist permanent expression lines. The results are visible within days!

ZERONA®
PRODUCT FACT SHEET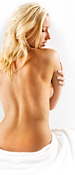 Welcome to the first non-invasive body contouring procedure to effectively remove excess fat. This new revolutionary method provides results without the dangers associated with surgery. And at the same time allowing all patients to remain active during treatment. As seen on CBS, FOX NEWS, THE DOCTORS, ALLURE and much more! Read more about the exciting new
Zerona Non-Invasive Liposuction
procedure below.
Overview:
Developed by Erchonia Medical™, the global leader in low-level laser healthcare applications, ZERONA®, a body slimming laser, offers individuals the solution, without diet or exercise. Unlike invasive weight loss surgery, ZERONA is a revolutionary method that is applied externally without the dangers associated with surgery, while at the same time allowing patients to remain active during treatment. Patients are able to continue to their busy lives without pain, swelling or the discomfort of garments. The simple procedure consists of six 40-minute treatments over a two week period.
Expected Results:
By following the recommended guidelines for success with ZERONA, patients can expect to experience a combined loss of 3 – 9 inches from the waist, hips and thighs and a reduction in clothes size. Additionally, early patients have noticed an improvement in the appearance of cellulite.
How It Works:
ZERONA works by utilizing the Erchonia® Laser Scanner. Clinical studies have demonstrated that the low-level laser stimulates the fat cell to emulsify (liquefy) the fat within fat cells. The liquefied fat is then released through a temporary pore formed in the cell membrane to outside the cell where it is in the interstitial space until absorbed by the lymphatic system. This results in millions of fat cells becoming smaller so inches are reduced off the waist, hips and thighs. The fat cells are not injured in any way by this process.
Usage:
ZERONA treatments can be done effectively on essentially any part of the body where there are localized subcutaneous deposits of fat, especially those that are resistant to diet and exercise. Most patients start with treating the waist, hips and tops of thighs which can all be targeted in one treatment session as they are within the target areas of the 5 laser lights.
Safety:
As a low-level laser therapy, ZERONA is considered a safe alternative to invasive procedures such as tumescent liposuction and lipodissolve and other non-invasive devices which rely on heating the tissue and can cause discomfort. ZERONA treatments cause no bruising, scarring and zero downtime. Anesthesia is not used and patients can assume normal activities immediately following each treatment. There are absolutely no side effects beyond loss of inches and fat. ZERONA is not recommended for patients with thyroid disease, diabetes or any other disorders where the metabolic system could be impaired and/or their lymphatic and hepatic system is unable to process the fat.
What Patients Need to Know:
ZERONA patients are treated six times over two weeks. Each of the six sessions takes 40 minutes. Treatment is delivered 20 minutes to the front of the body and 20 minutes to the back of the body. During this time the patient relaxes comfortably in a prone position. The laser emits a red light that does not feel either cold or hot; in fact, the patient feels nothing during the treatment. No downtime or recovery period is needed after treatment. Instead, patients can resume normal activities immediately.
Clinical Support:
ZERONA was proven effective through a double-blind, randomized, multi-site, and placebo-controlled study in which patients lost an average of 3.64 inches from their waist, hips and thighs. These results were dramatic compared to the placebo group which only lost an average of a .5 inch.
Click below to view Zerona Before and After pictures and to learn more about this procedure.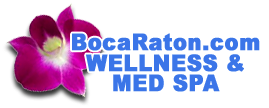 Boca Raton, FL 33432
Phone: 561.338.7594
Email: Click Here!