Mocelin Auto Repair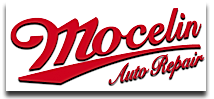 contact: Jean Ramos
address: 10018 Spanish Isles Blvd. #A-50

city: Boca Raton state: FL zip: 33432
phone: 561.367.3589
Boca Raton Auto Repair
& Restoration Services
561.367.3589
Boca Raton Auto Services
Auto Repair Services

Tire Service
Break Repair
Wheel Balance
Electrical
Air Conditioning
Computerized Engine Controls

Custom Fabrication

Welding
Motorization
Supercharges
Turbo & Car Kits
Replicas & Restoration
Aluminum & Metal Fabrication
Specialized in carburetor
Window Tinting
Welcome To Mocelin
Auto Repair Boca Raton

Welcome to your Boca auto repair shop, Mocelin. They are a Boca Raton foreign car auto repair company that has 18 years of automotive experience under their belt. They are ASE (Automotive Service Excellence) certified with other certificates in engine repair, automobile breaks, auto heating, air conditioning, engine performance, engine repair, suspension, steering, manual drive training and axel services. Mocelin Auto Repair has a solid reputation for quality auto repair and services and provides complete auto services to foreign and domestic cars.
---
New Customers
Receive 10% OFF Your Auto Services!
(Click Automotive Coupon Below)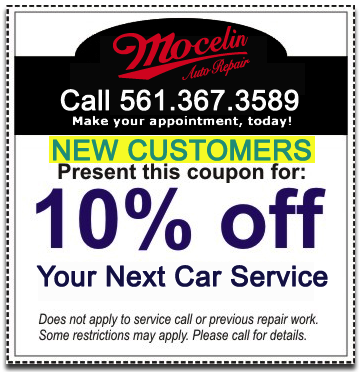 $18 Oil Change Special!

(Click Coupon Above)
---
Mocelin is your Boca Raton foreign auto body car services company that offers nationwide warranty and FREE 24 hour Boca Raton towing breakdown service (US/Canada) 17,000 Auto Care centers.
Hours of Operation:
Monday through Friday: 8 AM - 6 PM
Mocelin Auto Repair
10018 Spanish Isles Blvd., Suite A-50
Boca Raton FL, 33498
Ph. 561.367.3589

---
Need Domestic Auto Repair
or Foreign Auto Repair Services
In Boca Raton?
Call 561.367.3589




Domestic & Foreign Car Services

We offer professional auto care for your Mercedes Benz, BMW, Porsche and all European car models and American Automobile models. We are liensed and insured along with exceptional warranties. We provide detailed computerized estimates (DCE) for you. We gladly accept appointments for your convenience. We specialize in Porsche, Jaguar, Mercedes Benz, BMW and all other European models. If you own one of the following Automobiles we can save you money on all your repairs guaranteed! Mercedes Benz - BMW - Porsche - Audi - VW - American All models - Japanese All models



ASE Master Certified Technicians.
Our rates are very competitive and sometimes
lower than most dealers. ...Guaranteed!




Classic Automobile Restoration

Do you own an antique domestic or foreign car? Need help in automobile restoration? We can help you get that car back in shape including show cars, drivers, antiques, customs, we can do it. We can even provide help in partial restorations. We have the experience, equipment and tools that are required and we have the desire that is needed to dedicate our resources to your automobile.

Restoration Services Mocelin offers includes:
Parts Location
Frame / Body Off Restoration
Chassis Rebuild
Engine & Transmission / Drive train
Glass
Convertible Tops
Interior
Sheet metal Fabrication
Media Blasting, Including Sandblasting, Soda Blasting and Walnut Shell
Welding of all types
Fiberglass Repair & Fabrication
Show Quality Body & Paint

---