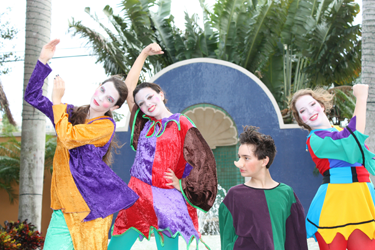 Click Here To Register For Classes!

UPCOMING 2013 SHOWS
CALENDAR VIEW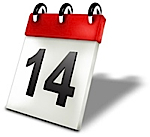 2013 EVENTS CALENDAR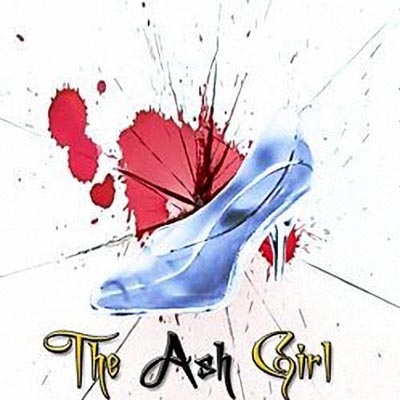 What:The Ash Girl

When:
January 18 – February 3, 2013
Fridays and Saturdays 7pm
Saturdays and Sundays 2pm

Where: SOL CHILDREN THEATRE TROUPE
Please call 561.447.8829

Details:


In a big old house, Ashgirl lives huddled deep in the protection of an ashy hearth. With her mother dead and her father away, she lives with her stepmother and two stepsisters. When the invitation to the ball arrives from the prince, Ashgirl finds the strength to go with the help of her friends, some of whom come from expected places. When she gets home, Ashgirl realizes that in order to regain the fleeting happiness she found in the arms of the prince, she must fight the monsters, the Seven Deadly Sins, who have slithered and insinuated their way into her heart and mind. She must believe in herself for others to do so.  This is a bold retelling of the traditional fairy tale … one that will make audiences think more Brothers Grimm and Into the Woods than Disney.

FRIDAY JANUARY 18
OPENING NIGHT of "THE ASH GIRL"
refreshments served at 6:15 followed by 7pm performance! 
tickets $15/$10 juniors ... seating by reservation only!
All other performances tickets
are $12/$8 for juniors (11 & younger)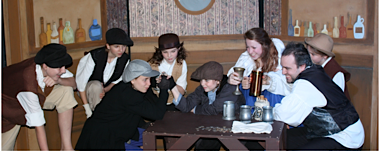 The cast of Oliver Twist getting ready for their big night! (Maggie Wilkinson, Kayla Thurber, Catherine Vianale, Emma McAvoy, Rebecca Ashton, Sara Grant, Robert Coward, Jessica Thurber).
---
DON STANSFIELD
studied musical theatre, acting, speech and dance at the American Musical and Dramatic Academy in New York City, and has performed professionally in New York, Boston and in regional theatre. He attended New York University where he received his undergraduate degree in communications, and his masters in the Arts and Humanities. Since moving to South Florida in 2002, Don has taught drama to students from 5 years old to high school, and is actively involved in South Florida Theatre. He was recently seen in the Caldwell Theatre's production of "Something's Afoot." Don is also a long time member of Actors Equity Association and the Screen Actors Guild.
---
Karen Saunders, Summer Camp Music Director
KAREN SAUNDERS, upon graduating Hofstra University, began teaching choral music in Oceanside, New York. At the age of 30 she decided to pursue a career in the entertainment business. At an "open mike" call in the city, Rodney Dangerfield just happened to be in the audience and after she finished singing, Rodney approached her and asked Karen to be his opening act.
From opening for Rodney she began to share the stage with such luminaries as Jay Leno, Robert Klein, Billy Crystal, Rita Rudner, Jackie Mason, David Brenner, and Joy Behar, just to mention but a few.
The versatility of her instrument has allowed her career to be quite a varied musical one taking her from the world of avant-garde twentieth century music to Atlantic City to Broadway through Jazz and Blues to an act that encompasses almost all of these styles. Karen plays the piano, the cello, is a recipient of numerous awards for her singing and her act, and is listed in the International Who's Who of Musicians.
She starred in the 25th anniversary production of "Jacques Brel is Alive and Well and Living in Paris" in New York City, has performed in small intimate clubs, such as the Plush Room in San Francisco, to Carnegie Hall with Skitch Henderson and The New York Pops. Karen has coached Broadway actors for their auditions both vocally and for cold readings and created nightclub acts for performers. Karen believes that every child should be made to feel like they are a star and that it is her job to inspire and get out of each child in a nurturing way all that they can be so that their hearts will soar.....so they will have an experience of a lifetime and those that will continue on the road professionally will have gained insight into their musical selves and grow as an artist. Karen is a member of Actor's Equity.
---
Michael Pilato, Summer Camp
Theatre Instructor/Assistant Director
MICHAEL PILATO is delighted to rejoin the production team heading the Sol Children Theatre Performing Arts Camp of 2010! Michael is a current B.F.A. Musical Theatre Major at Penn State University with an extensive background in actor's training and vocal performance. He graduated from the four year Musical Theatre training program at American Heritage on full scholarship, and he has previously studied at Emerson College, in Boston, MA, as a B.F.A. major. Michael has spent the last four years working in close conjunction with Sol Childrens Theatre Troupe. In addition to coaching the last six camp shows, Michael most recently directed last summer's main stage production of Warren Grave's Beauty and the Beast. He emphasizes in nurturing children's creativity and understanding. The theatre is meant for much more than guiding a child across the stage and instructing him or her to pose. It is suppose to be fun and stimulating at the same time, and there is no child we are beyond working with. Let there never be a dull moment in Summer 2010!
---
Jennifer Mathie, Summer Camp Dance Director
JENNIFER MATHIE is a native Floridian and graduate of Dreyfoos High School of the Performing Arts. She continued her education at Oklahoma City University as a scholarship student in Dance and Musical Theatre. Her professional credits include: Fosse, national tour; New York City Center Encores! Follies; Radio City Rockette; Original Company, Irving Berlin's White Christmas; Spamalot, national tour. Jennifer has also enjoyed a career in modeling and commercial work with some of her SAG credits including: EBay, Hoover, The Sopranos and Hitch. In addition, Jennifer has been a master teacher at numerous dance studios throughout the country and recently returned from India where she received her certification in yoga.
---
Information:
Located in Boca Raton The highly successful and original Performing Arts Summer Camp, Sol Children Theatre. Being one of South Florida's most prodigious and rapidly growing children's theatre companies, is setting up camp once again for 2009! This will be its fourth year with the promise of even more spectacular productions. This year Sol Children Theatre Performing Arts Summer Camp is going to be presenting The Lilliputian Opera Company. Make sure you register soon! Spaces fill up fast. Read More!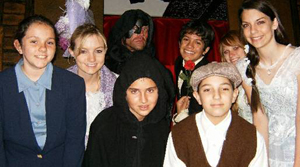 Andrea Feniger, Kendra Fulmer, Noelle Hoffman, Gisbert Heuer, Josh Lerner, Giovanni Bagioli, Erin Hancock & Madison Spear (as Christine)
An exciting musical based upon Gaston Leroux's classic story of a brilliant young singer and her "Opera Ghost." The Sol Children adaptation weaves a musical tapestry of love, mystery and intrigue while bringing to life the famously heart-wrenching story.

Cinderella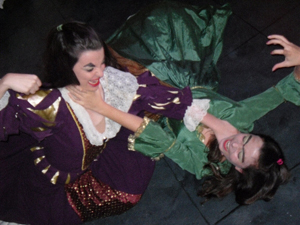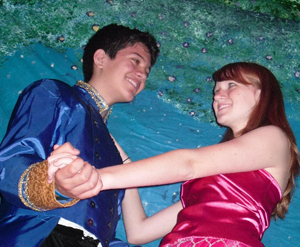 Evening in the Garden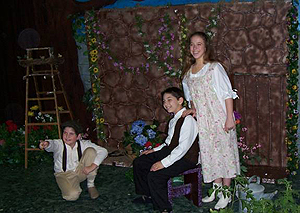 Colin in the Garden
Thomas Porat as Dickon Sowerby
Josh Lerner as Colin Craven
Sara Grant as Mary Lennox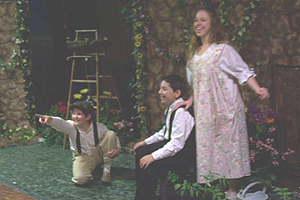 Evening in the Garden
Thomas Porat as Dickon Sowerby
Josh Lerner as Colin Craven
Sara Grant as Mary Lennox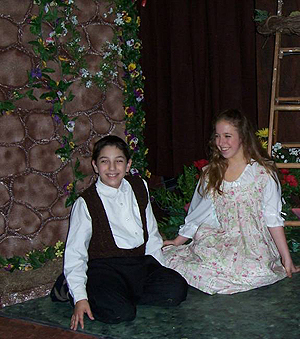 Cousins!
Josh Lerner as Colin Craven & Sara Grant as Mary Lennox
Dracula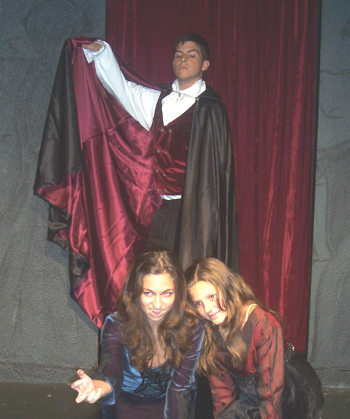 Kyle Garcia as Dracula;
Taylor Fox & Ashleigh Deneve as Vampiresses
Kyle Garcia as Dracula;
Christy Sperrazzo as a Vampiress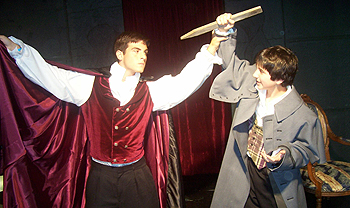 Kyle Garcia as Dracula; Robert Fritz as Van Helsing

SOL CHILDREN THEATRE TROUPE is a not-for-profit children's theater featuring children's classics.
Plus a full schedule of acting and musical theatre classes for all ages; Performing arts, school auditions, coaching and private voice lessons.

TESTIMONIALS
PARENTS
"A Standing Ovation For Sol Children's Theatre"! Having known this theatre since its inception, I am proud to say that Sol Children's Theatre is the best thing to have happened to my child, and to me. It embodies and practices every ideal a theatre of any sort should live up to: it is innovative, creative, and expressive.
One of the most amazing things about this theatre is its absolute refusal to be a stereotype of a children's theatre, to be slotted into a comfortable definition. With every production, this theatre reinvents itself. While the plays are primarily by and for children, it strives to make each play appeal to every person in the audience, irrespective of age or any other designation.
Another endearing quality of SCTT is the pride it takes in everything they present. Each play reflects the care of detail and disciplined hard work that has gone into it on part of everyone who is intimately and tangentially involved in the making. Each play, even each performance, is like none other, inimitable, a piece of art in its own right. I try my best to watch more than one performance of every play they produce.
By far the most admirable feature about this theatre is its range. For instance, it can, very effectively, tap into the endearing, innocent sweetness of "Sleeping Beauty," and in the very next play, boldly push the boundaries of the classic gothic horror of "Dracula" with equal grace. I see that the theatre plans to tackle Shakespeare in the near future, and have no doubts that they shall do fair justice to the complexity and richness that the Bard's work demands of its practioners, with aplomb. Words fail me. There are not enough commendations I can express for this extraordinary theatre I am fortunate to know. Being associated with this unafraid enterprise that expresses the human experience, has made me proud of being human. I invite all who know it to join me in applause for the Sol Children's Theatre as it continues to truly execute its mission with every breath it takes, both on stage and off stage."
--Shefali Choksi

"My daughter has performed with a few of the other local theaters over the past couple of years. However, it wasn't till she found Sol that she blossomed into a true young actor. At Sol, she has taken acting classes, private voice lessons, as well as performed in a handful of their shows. Sol has everything a young actor needs to learn the profession. It is truly one-stop shopping. As a parent, the moment I walked into the theatre and met Rosalie, I was hooked. She cares about these kids, wants to see them evolve and succeed into not only fine actors, but more importantly, wonderful human beings. She takes no bologna from them and in return she has a theatre troupe of the most outstanding and well behaved children I have ever met! There are no stars here, only good friends."
-- Trish Sylvester

"Sol Children is a great place for my son. He has found in this theater a wonderful group of children and teachers. It is a safe, fun and full of energy place. My son can't wait to go to rehearsals or troupe meetings. He calls Sol Children Theater "his second home". I'm so glad we found this outstanding children's theater!
-- Maria Laing

"Our daughter has been performing in local theater and in professional productions for 6 years. She has also been with Sol since it opened in Boca Raton. We have found Sol Children's Theatre Troupe not only provides her a performance venue but the teachers and directors there push her to improve her skills. In particular, the staff stresses vocal training for musical theater, classical singing and standards with great results. It is also a happy, safe place for children."
-- Jim Novakoff

"We have been apart of Sol Children's Theatre since their beginning. My daughter Lexy Gaeta has done many shows at Sol. We are part of the Sol family. It is a safe place for children, it is their safe place and they'll love being part of it. From Rosalie to her staff and the kid's involved it is a top notch theatre .Their productions are wonderful and the children have great talent. I can promise you, you won't be sorry, you'll only wish you had done it earlier!"
-- Reesa Gaeta

"Our daughter Tanya is passionate about her involvement in Sol Children's Theatre. She loves the classes, plays, and participation in troupe activities ranging from crew to cast member. It is her favoritie extracurricular commitment."
-- Carol Sashi

SCTT has truly become my home away from home. The directors and employees are dedicated and continue to go up and beyond the call of duty, and the children and teenagers in the shows are not only unbelievable actors but now unbelievable friends. I am eternally grateful for everyone involved. I have learned so much, and yet have so much more to learn, and I can't wait.
-- Taylor Fox
"Sol Children Theatre isn't just a theatre where a bunch of kids go to to read lines, we truly learn the art of not "acting" but "being". We step into our character's shoes and put on a remarkable performance. Sol Children Theatre is a place where we can be ourselves; here, we aren't afraid to take risks and try new things. Being part of this amazing place has not only taught me about acting, but about myself. We learn so much and we have a BLAST doing it! I'm so glad to be a part of Sol Children Theatre Troope."
-- Katie

AUDIENCE … DRACULA
"I just wanted to let you know how much I enjoyed Dracula last night. I thought the kids did an absolutely wonderful job. What a talented bunch of kids! I loved the humor in it too. The acting was just great, and their energy was contagious. I could tell that they really enjoy acting. Again thanks. It was great!"

"I can't say it enough, but this is THE BEST CHILDREN'S SHOW I HAVE EVER SEEN!! Everything is so wonderfully perfect from the costumes to the lighting to the music. And the actors...from Dracula to the servant girl and everyone in between...each and everyone of them is a shining star. Kudos to your cast and crew. I get chills just thinking about it. Congratulations on a job superbly done and I will most definatley spread the word!!"

AUDIENCE … CHRISTMAS CAROL
"Congratulations to everyone who helped put together the wonderful production of Christmas Carol last night! I was really blown away by how this cast came together and thoroughly entertained us! To say I was impressed by this group of actors is an understatement!!!!"
"I've only been to Dracula previously. Christmas Carol, absolutely outstanding! The young cast was amazing! I can't believe they can carry such talent! The lighting and effects just keep getting better and better"
-- TROUPE

Sol Children Theatre REVIEW

Saturday, April 25, 2009
Young Artists Concert Series
Sol Children Theatre has done it again! The six young vocalists entertained last night's audience with music from contemporary to show tunes. Patrons were served up a mix of solos, trios, and sextets. First-time visitors to the theatre were heard to say "Splendid" and "That was awesome" while Sol veterans agreed "That was the best one yet". Producer/Director Rosalie Grant raised the bar for her performers and the cast of teenagers had no problem meeting the challenge. The evening ended with the audince showing their appreciation with a standing ovation.
If you've not yet been to this little slice of heaven on Federal Highway, you're really missing out on something special. Sol Children Theatre, Boca Raton's only not-for-profit children's theatre, produces plays and concerts that are terrific, family-friendly events. Thank you, Ronald B. in Boca Raton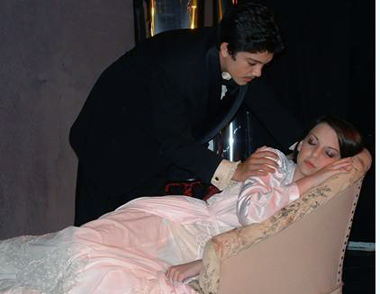 ---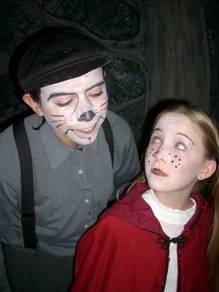 'Little Red' meets 'The Wolf'!
Anthony Galarza as the Wolf
Isabel Getz as Little Red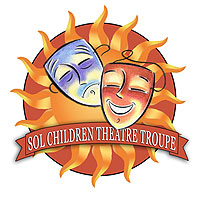 Sol Children Theatre
3333 N. Federal Highway | Boca Raton, FL
E-mail: SolChildTroupe@aol.com | SolChildrenTheatreTroupe.org