Lamborghini Palm Beach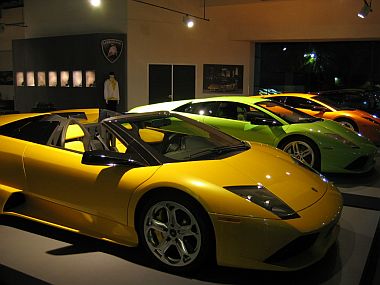 contact:
address: 2345 W. Okeechobee Blvd.

city: West Palm Beach state: FL zip:
phone: 866.415.url: LamborghiniPalmBeach.com


World's Fastest Cars Are Coming to Palm Beach

Youngest Dealer In The World
Set To Open Lamborghini Palm Beach

WHO: Lamborghini Palm Beach
Expected Celebrity Attendees: Stephan Winkelmann, president and CEO of Italy-based Automobili Lamborghini Brett David, Dealer Principal and Lamborghini West Palm Beach President, owner Prestige Audi, Prestige Imports and Lamborghini Miami Super-producer Timbaland (Timothy Z. Mosley) Helio Castroneves, Dancing with the Stars Champion and Indy Car Series Driver Tony Kanaan, Indy Car Series Driver Ty Law, Former NFL Star of the Kansas City Chiefs Jona Cerwinske, Lamborghini Sharpie Car artist Florida Marlins team members

Additional attendees to be announced throughout the week! WHAT: Grand Opening of 22nd dealership in America and 3rd in Florida WHEN: Saturday, March 15 at 7:30 pm WHERE: Lamborghini Palm Beach
2345 W. Okeechobee Blvd.
West Palm Beach, FL INTERVIEWS AND PHOTO/VIDEO OPPORTUNITIES:


Amazing photos of the world famous "Sharpie Lamborghini" – free hand painted by local artist Jona Cerwinske. Interviews available with Stephan Winkelmann and Brett David

The Lamborghinis - super sports cars including the Gallardo Coupe, Spyder and Superleggera as well as the flagship V12 Murcielago Coupe & Roadster. Millions of dollars of extreme power, sophistication and luxury will be on display throughout the evening in all of the trademark Lamborghini colors.

About Lamborghini:


Founded in 1963 and bought by Audi AG in 1998, Automobili Lamborghini is headquartered in Sant' Agata Bolognese, Italy and manufactures some of the world's most sought after super sports cars. With 33 dealerships in North America and more than 100 worldwide, Automobili Lamborghini has created a succession of dynamic and elegant sports cars and sedans including the Miura, Islero, Urraco, Jalpa, Espada, Countach, Diablo, Murciélago, Gallardo, Murciélago Roadster, Gallardo SE, Gallardo Spyder, Murciélago LP640, the Murciélago LP640 Roadster and the recently introduced Gallardo Superleggera.

About Brett David:


Brett David, a 20 year old Miami native, is the owner of Prestige Audi, Prestige Imports, Lamborghini Miami and now, Lamborghini Palm Beach.

Lamborghini Miami, a division of Prestige Imports, was built upon a strong foundation of hard work and determination by Brett's late father Irv David. Since the passing of Brett's father last year, Brett has taken over the business and has been busy working to make it bigger and better. In addition to his great business savvy he is always developing innovative in ways to constantly market his company. In 2007 he was bold enough to create a piece of art on his own Lamborghini making headlines and national news with the "sharpie car".

This past year Prestige Audi has reached incredible heights under the direction of Brett receiving an award from Audi for selling the most cars in the world this year. Both Prestige Audi and Lamborghini Miami are the largest dealers in the United States for both Audi and Lamborghini.

Brett started working for the company at 14 years old washing and detailing cars for his father. Brett, always striving for more decided to start his own online car customizing business called 305 Imports, the company was successful in only six months. After the success of his company, Brett's father decided to give him a chance doing part time sales, and at age 14 he sold his car to his first client - Missy Elliot.

Brett has built quite the celebrity clientele over the past years, remaining close with celebrities such as Lenny Kravitz, Timberland and Jamie Foxx. His father's success is what made him successful now but he will make his own success with Lamborghini Palm Beach and his plans for expansion throughout Florida.