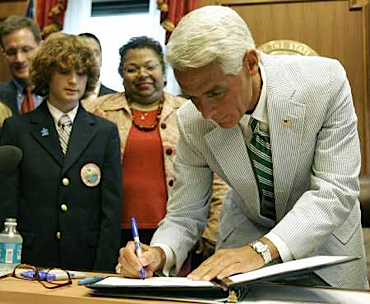 Jack Davis, 11, left, and state Sen. Larcenia Bullard watch Florida Governor Charlie Crist sign his bill, "Jack Davis Florida Restaurant Lending a Helping Hand Act", into law on Tuesday, July 1, 2008
.
---
Jack Davis may only be 11, but he has accomplished what most of can not do! He's got a Florida law named after him. Thats right! This sixth-grader's cause: Making it easier for restaurants to donate their leftover food to homeless shelters and charities.

Jack, of Coconut Grove, started writing letters to florida legislators after a family vacation last summer in Tennessee, where a hotel manager told him that the leftovers at a breakfast buffet would be thrown away. The manager of the hotel explained to Jack that he couldn't risk a lawsuit if someone got food poisoning or had an allergic reaction.

"I volunteered for my school's outreach program, and we went to shelters and I saw what little food they received," said Jack. "They're good people, with families and kids. I wanted to improve their living conditions."
Jack's bill, now known as the Florida Restaurant Lending a Helping Hand Act, amends provisions regarding liability for canned and perishable food distributed free of charge by expanding the definition of 'perishable food' to include foods that have been prepared at a licensed public food service establishment. Simply put, the bill will permit restaurants and other public food establishments to donate perishable foods to charitable or nonprofit organizations for the benefit of persons in need,".
---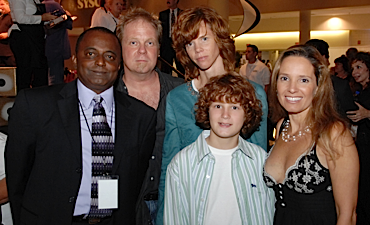 (L-R) JP Baptiste, Chris Hetzner, Jillian Corben, Jack Davis, Yasmin Davis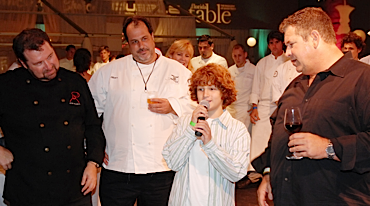 (L- R) Chef Allen Susser, youth hunger activist Jack Davis,
Chef Oliver Saucy, and Master of Ceremonies; Paul Castronovo