CALL TODAY
FOR RESERVATIONS!
561.362.8990
Friday Night Fights!
RAMSAY VS. VINCENZO
Our very own Boca Raton Italian restaurant, Anna Vincenzo's had an amazing turnout on Friday, March 26, 2010 while customers watched a 12ft LCD Projector screen for the FOX television hit show, Gordon Ramsay's Kitchen Nightmares. Last summer, cranky British Chef Gordon Ramsay and his crew spent a week at Anna Vincenzo's Ristorante Italiano to film the episode. Customers watched as Gordon Ramsay went head to head while he challenged Chef & Owner, Concetta Menna... (locals know her as C.C.).
Anna Vincenzo's provided FREE samples of her famous: Lasagna, Pasta Fagoli, and Eggplant Rollatini throughout the night! Mmmmmmm, it was indeed a tasty evening!
BocaRaton.com had an exclusive interview with C.C. to discuss her experience with the taping of the hit T.V. show. call up Anna Vincenzo's today to make your reservations and feast upon fresh delicious Italian food. While your there, don't forget to say hi to C.C.!
Make Your Reservations
Phone: 561.362.8990
(Tell CC that BocaRaton.com sent you)

Please click below for more information on Anna Vincenzo's Business Directory Listing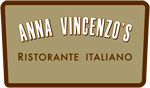 If you are searching for Italian restaurants in Boca Raton, look no further than Anna Vincenzo's Ristorante Italiano! Open for over a decade, Anna Vincenzo's offers scrumptious Italian cuisine at an affordable price. Their signature pizza, pastas, entrees, and desserts are all made-to-order with fresh ingredients.
Anna Vincenzo's
---
ANNA VINCENZO'S was on Gordon Ramsay's Kitchen Nightmares which aired Friday, March 26, 2010. Go into Anna Vincenzo's today and see what all the buzz is about! Tell her BocaRaton.com sent you in!