Community Celebration for
FAU Men's Basketball Team
on Wed, April 12th at 5 PM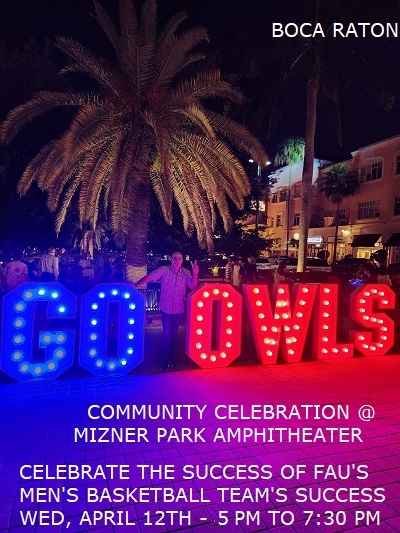 Boca Raton celebrates the Florida Atlantic University (FAU) men's basketball team for their Final Four run during 2023's March Madness.

Join us at the "Community Celebration" event this Wednesday, April 12 from 5 PM to 7:30 PM at Mizner Park Amphitheater - Address: 590 Plaza Real Boca Raton. Watch the basketball team awarded the key to the city of Boca Raton.

The Boca Raton residents are so proud of the men's basketball team accomplishments throughout this season and the city is proud to host this FREE EVENT. Come on out and enjoy FAU's Final Four run in the NCAA Tournament, BocaRaton.com will be there capturing the moments.

The event starts at 6 PM and will feature a variety of food trucks, fun games, cash bar, photo opportunities, great music, FAU's band and spirit team, and FAU mascots Owlsley will be showing off his school spirit.

The key to the city will be presented to the team at 6 PM, and the event will end at 7:30 PM.

BocaRaton.com will try to grab some time with FAU President Stacy Volnick to get her input on how this historic season changed the vibe at the university and the community at large.

Bring your own chairs and blankets. If you would like to rent chairs they are available for $5 each. Also, be sure to leave your pets at home. No outside food and beverages allowed. See you on Wednesday!
---
FAU Basketball March Madness
(9) Florida Atlantic Owls and (5) San Diego State Aztecs play at the NCAA Tournament - Final Four on Sat, April 1st, 6 PM at the NRG Stadium in Houston, TX.
then (5) Miami and (4) Connecticut play at 8:45 PM
Then on Monday, April 3rd is the National Championship at 9 PM. I'm betting on FAU for the win
For the first time for Florida college basketball, half of this year's Final Four teams are located right here in South Florida - Miami and FAU are together for the very first time!
Has FAU ever made March Madness?
The Owls were not participating in NCAA men's basketball before 1988 and have only been playing at the Division I level since the 1993-94 season. Prior to 2023, the program had just one NCAA Tournament appearance (2002) and zero tournament wins.
Did FAU make it to the Final Four?
9 seed Florida Atlantic Owls upset the No. 3 Kansas State Wildcats on Saturday, winning 79-76 to advance to the Final Four. Here's what you need to know: It's FAU's first Final Four appearance in school history.
What teams are in the Final 4 March Madness?
2023 Final Four: Evaluating UConn, Miami, San Diego State, FAU as March Madness heads to Houston. After two wild weekends of NCAA Tournament action, the 2023 Final Four field is set as the field of 68 has been reduced to a mere quartet.


The NYSE welcomes Madison Square Garden Entertainment Corp. in celebration of the NCAA Division I Men's Basketball East Regional

In celebration of the NCAA Division I Men's Basketball East Regional, President Volnick joined the Florida Atlantic University Men's Basketball team along with Michigan State University, Kansas State University, and the University of Tennessee, Knoxville to ring the closing bell at the NYSE