Back to School
Palm Beach County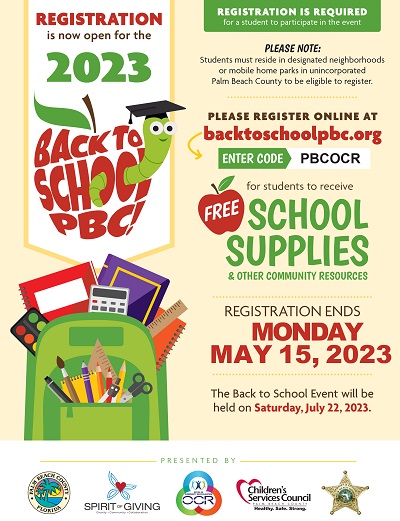 Back to School PBC Event
The registration deadline for this year's Back to School PBC! event is rapidly approaching. The registration deadline is Monday, May 15, 2023, by 5 p.m. During the event, registered students will receive Free Backpacks, Schools Supplies, Books, Socks, Dental Goodie Bags, Soaps, Health Checks, Haircuts, and other Community Resources. Entertainment and FREE Meals for participating students will be also provided.
Go to http://backtoschoolpbc.org and enter code PBCOCR to begin with registration. Please note that students must reside in designated CCRT neighborhoods or mobile home parks located within unincorporated County to participate in the event. Registration is available in English, Spanish, and Creole.
To Register
Click here to register for Back to School PBC!
To Sign-up to Volunteer
Click here to volunteer for Back to School PBC!
For More Information
Please contact the OCR at ocrnews@pbcgov.org.