WARNING:

ADULT CONTENT
VIEWER DISCRETION IS ADVISED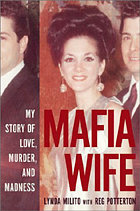 BocaRaton.Com has the EXCLUSIVE interview you all have been waiting for. Meet Lynda Milito also known as the 'MAFIA WIFE'.
Lynda's Book 'MAFIA WIFE', centers around her life of 'LOVE, MURDER and MADNESS' while married to Louie Milito. Her life is described as part of 'Goodfellas' and 'The Sopranos'. Louie Milito vanished one night back in 1988.
Check back shortly for the first VIDEO INTERVIEW seen only here at BocaRaton.Com with Mafia Wife, Lynda Milito.