Real Estate Virtual Tour
Welcome to our Boca Raton Real Estate Virtual Tours! We are thrilled to showcase our collection of Real Estate Video Tours, featuring properties from South Florida to North Carolina. Whether you're looking to create your own virtual or video tour for your property, or market a residential home, office, or land in our Real Estate Marketing Directory, we can help. Contact us at 561.338.7594 to schedule an appointment or email Info@BocaRaton.com.

---
PRODUCTION COSTS:
Standard Video Tour with Music Overlay:
$300.00 one time fee
Agent Introduction with Agent Voice-Over:
$100.00 upgrade

BocaRaton.com Voice-Over using Script Template:
$100.00 upgrade
Real Estate Company Commercial: $500.00
Commerical will be approximately 1 minute in length

Agent Commercial - Personal Profile Video:
$300.00 per commercial

Record 5 commercials in one shooting:
$200.00 per commercial
Each commercial will be approximately 1 minute in length
Additional Video Recording Time: $200.00 per hour
---
This is not your standard Virtual Tour!
No distorted fish eye lens photos!
THIS IS REAL VIDEO!

HOW DOES IT WORK?

1. Order your tour:

The process is quick and easy. Within 24 hours of ordering your Video Tour, BocaRaton.com will contact you to schedule an appointment at the property.

2. The shoot:

One of our experienced videographers will meet you on location for a 45 to 60 minute video shoot. The key features of your property will be captured. This includes the exterior and any noteworthy views, the master suite, kitchen, and main living areas. Additional bedrooms (up to 2) may also be included with no additional cost.

Brand your name and your company! You have the option of appearing in the video as a tour guide. If you wish, our videographer will record a welcoming introduction as well as a closing where you have the opportunity to introduce yourself and company. This is a very effective way to get your name out to thousands of homebuyers. We highly recommend it for all Real Estate professionals.

A scripted voice over narration can also be recorded through the camera. Get the fine details across while your audience enjoys the beautiful imagery of the video tour. In your own words, you have the opportunity to engage your potential buyers just as you would if they were actually there with you.

3. What happens next?

Once the taping is complete, BocaRaton.com's Production Team will create your 2-3 minute Video Tour. Within 48 hours from your taping, your Video Tour will be playing on a customized, Search Engine Optimized page within the BocaRaton.com Real Estate directory as well as on YouTube.com and MySpace.com. You will also be emailed a link to easily add to your own existing web site as well as MLS, Realtor.com, or any other site that you use for marketing.

If you need assistance adding the video to your web site, MLS, or others, additional fees may apply.

The next step is spreading the word. Drop the link we give you into an email and invite everyone on your mailing list to view your new Video Tour!
---
WHY VIDEO?

Buy allowing your property to be viewed by potential buyers from around the world 24/7, 365 days a year, your selling potential will be greatly increased.

A Video Tour allows clients to preview a home at anytime regardless of schedule or location. The stress of an out of town move can be greatly reduced. Military families with loved ones over seas can home search together at the same time. Gone are the days of driving to 30 houses before finding a match.

The majority of Real Estate being sold today is being found online and the new generation of web savvy homebuyers appreciate the value of online video. Still photos and slideshows are commonplace and are being passed by for more advanced technology.

:

These are the days of video chatting and podcasting. BocaRaton.com is here for you, opening the doors and ushering you into your greater marketing potential.

To schedule a Video Tour today, contact us at: Info@BocaRaton.com
---
Below is a variety of Video Tours BocaRaton.com produced
---
Real Estate Virtual Tours, Video Tours throughout south Florida; Ft Lauderdale, Boca Raton, Delray Beach, Boynton Beach, Palm Beach, West Palm Beach, Wellington, Palm Beach Gardens, Coral Springs, Deerfield Beach, Parkland, Coconut Creek, Pompano Beach, Lighthouse Point, Sunrise, Hollywood, Wilton Manors, Lauderdale by the Sea, Davie, Plantation, Miramar, Pembroke Pines, Southwest Ranches, Weston, Miami, South Beach, Bal Harbour, Sunny Isles, and Aventura.
---
FLORIDA REAL ESTATE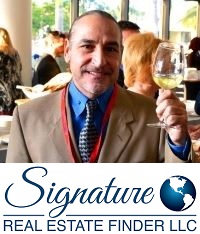 FLORIDA REALTOR
Are you looking to buy or sell a home in Florida? Then, look no further than our team at Signature Real Estate Finder! With extensive local market knowledge and expert service, we are here to help you secure the best real estate deals. Give us a call at 561.338.7594 and let us guide you through the Florida Real Estate process.
MARKET YOUR FLORIDA PROPERTY
If you would like to market your FLORIDA REAL ESTATE: Commercial Real Estate, Land Property, Rental Property, or Residential Property with BocaRaton.com, please call 561.338.7594 or email us at Info@BocaRaton.com.
Real Estate Virtual Tour
BocaRaton.com offers stunning photography and videography services to market homes for sale in Florida. Showcase your home's best features with captivating visuals.