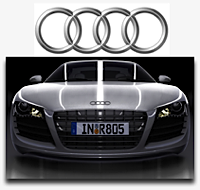 On Wednesday, August 11, 2010, top bidder Tom Gonzales became the first ever to own the 2011
Audi R8
V10 Spyder Cabriolet Convertible. Congratulations Tom! This car brought $230,000 dollars for the Boys & Girls Clubs of Broward County. This is the FIRST in the United States of this all new Audi. Tom was presented the keys at the fourth annual 2010 Boca Raton Concours D'Elegance as the live auction winner!
---

This was a night with plenty of drama! Drama from an episode of Gordon Ramsay's Kitchen Nightmares, which ANNA VINCENZO'S was chosen to be on.
Friday, March 26th on FOX TV, BocaRaton.com was on hand filming the broadcasted episode LIVE on the patio in front of Anna Vincenzo's Italian Restaurant. With it's (almost) 2 hour wait, patrons were enjoying themselves with smiles, laughter, eating, drinking and having a great time and were also waiting anxiously for 9:00 PM to roll around to view the episode that was sure to be a hit.
The guests that chose to sit outdoors were able to watch the episode on a 500 inch high definition movie screen to view owner and chef Concetta Menna (locals know her as CC) doing battle with the british and cranky chef Gordon Ramsay! It was a battle all right, up until the very end which had almost everyone in tears as CC and Gordon Ramsay had a final hug to say their tearful goodbyes!
Bottles of wine, delicious pizza's 7 Italian food, appetizers and plenty of Eggplant Rollatini were being served all through the night. With the party kicking off at 5pm, the last of the guests didn't leave until after midnight. It was a magical evening indeed for everyone involved.



Florida Table Magazine

Watch Video of Beany's Gourmet Cafe: Click Here!
In July of 2008, Beany's restaurant owner Milena Meier left for her native country of Peru with a rescue mission to help impoverished children and families in Lima, Peru with her husband and a local organization. After a month in Peru, she worked to feed, provide shelter for, and educate Peru's neediest citizens.
Milena and her husband brought back great news concerning the fruits of the efforts of Operation Rescue the Children, the organization founded by the SonCoast Church in Boca Raton. The children in the Rimac district of Lima no longer exhibit signs of malnutrition, and now live in proper housing establishments instead of in caves and on the streets.
Milena and her husband work through a local church in Lima called El Camino. The church enlists the help of volunteers who shop for, prepare, and serve food for needy families. There are also nurses, doctors, and dentists volunteering free health care to people who need it. A team of such people traveled with Milena and her husband to Peru to render assistance, bringing medicines, toothbrushes, and vitamins donated by various hospitals and pharmaceutical companies. Other volunteers performed songs, dances, and skits to entertain the children receiving medical aide provided by the church. The feeding center established by Operation Rescue the Children feeds about 160 children every week, and the medical operations established by the same organization treat about 450 people every week.
Milena had a meeting with the mayor of Rimac's wife just before she came home. The mayor and his wife support the cause of the rescue mission, and are promising to help the local church with blankets, licenses to vend on the street, and additional medical help. They hope to foster self sufficiency among Lima's impoverished citizens so that they can bring themselves out of poverty. It is clear to Milena that the people she has helped are willing to learn, and are warm-hearted and grateful for the help they have received from people who live on another continent.
---