Steven Forman was born in the Boston area in 1942 and graduated from the University of Massachusetts in 1963. He then started his own seafood marketing company in 1970. Forman has always had a passion for writing but he did not publish his first book until 2009.
Forman devoted most of his adult life to building a one-man company into an international, multi million-dollar enterprise from the ground floors of Boston's Haymarket square to the grounds of the emperor's palace in Tokyo. He has a talent of making small ideas grow into gigantic successes and he has played a part in creating entirely new industries that remain viable and successful today.
In 1992 he and his wife Barbara left the cold New England winters for the warmth of Boca Raton, Florida and have been enjoying the best of both worlds ever since. The unique, contrasting life styles of Boston and Boca inspired him to write "Boca Knights", which is a book he has been wanting to write for many years. The sequel, "Boca Mournings" is Forman's most recent novel published in 2010.
Forman and his wife recently became Florida residents, but they still divide their time between their two favorite cities. Their daughter Jana lives in Boca with her husband Mark and they have two beautiful grandchildren, Taylor and Bradley. Forman's son David, his wife Stacie and their new son Tyler live in Massachusetts with their three rescued cats and one rescued dog. David and Stacie founded a pet food company dedicated to helping domesticated animals with their diets.
Forman learned that the business and literary worlds have a lot in common; create a good product, market it to the public and hope that numerous consumers buy the product. The main difference he experienced between his two careers is the public's perception. "Over the years I've sold millions and millions of pounds of seafood but no one has ever asked me to sign a piece of fish. Write a good book, however and suddenly a lot of people want my signature on something besides a check." says Forman.

Steven Forman Books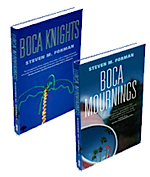 BOCA KNIGHTS
"Fast, funny, and incredibly wise, Boca Knights by Steven M. Forman is a compulsive read that will make you want to live next door to its hero, Eddie Perlmutter"... Read Book Review
Gayle Lynds,
New York Times Bestselling Author of The Last Spymaster
---
BOCA MOURNINGS
"Boca Mournings is a riotous, ribald look into the wacky world of South Florida. Not since Carl Hiaasen at his peak has anyone captured the pothole-marred, driving impaired, and geriatric-dominated zaniness"... Read Book Review
Jon Land,
Bestselling Author of Strong Enough to Die

PURCHASE BOOKS
Book series, Boca Mournings and Boca Knights
are now available at the following online retailers:
Amazon.com
BarnesandNoble.com
BooksaMillion.com
Borders.com
Powells.com
IndieBound.org
MacMillan.com
The book reviews are in! Get the fiction book series of 'Boca Mournings' and 'Boca Knights' by Author Steve Forman today and read what the book review sites are calling incredible & riotous! Continue to read about the exciting adventures of super hero Eddie Perlmutter and his consistent dedication to peace and justice for all.

Book Reviews
Rabbi Jack Riemer
"I have noticed something strange lately. I have never seen a book in which a murder takes place in Deerfield Beach or in Delray or in Pompano or in Plantation. But I have seen lots of books in which a murder takes place in Boca Raton. I have no idea why that is. The latest in the series of detective stories set in Boca is Boca Knights by Steven M. Forman. It is a fast moving, suspense full story, and I recommend it to you if you are a detective story buff.... Read Review
---
Steve Glassman | Crime Story Author:
"While many who grow long in tooth and gray of head look forward to moving to the Sunbelt and filling hours with shuffleboard and bingo, Eddie Perlmutter, retired from the Boston PD and relocated to Boca Raton, occupies his time rounding up hate-crime-committing... Read Review
---
Prudy Taylor | Boca Raton News:
"If you live in a gated or country club community anywhere in the state of Florida or if you grew up in Boston, you owe it to yourself to read Boca Knights, a debut novel by Boca resident Steven M. Forman... Read Review
---
Nils A. Shapiro | Book Reviewer
"With his first-ever book, author Steve Forman has created a "monster." I mean that in a very positive sense: In Eddie Perlmutter --- a pugnacious, highly decorated ex-cop from Boston who "retires" to Boca Raton to avoid the bitter cold winters that cripple the arthritic knees broken by run-ins with Boston's criminal element --- Forman has come up with a literary character almost certain to end up on the motion picture screen…and Al Pacino would be perfect for the part... Read Review
---
Steve Glassman | Crime Story Author
"Ever wonder what would happen if you crossed Philip Roth with Elmore Leonard? This impressive crime debut may provide a hint. Long on back story, the saga of cop Eddie Perlmutter begins... Read Review
---
Rebecca Cantrell | International Thriller Writes...
"Eddie Perlmutter, the main character in Boca Knights, has been called "one of the best new characters to appear on the literary horizon in years" by bestselling author Gayle Lynds. A retired Boston cop, he's traded the cold streets of Boston for the sultry ones of Boca Raton. But he's about to discover that warmer doesn't mean safer, and a man with a strong sense of justice can't ever really retire... Read Review


Website: SteveForman.com
E-mail: Steve@FormanIndustries.com