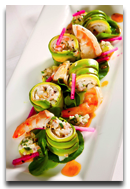 The Grand Opening Party for Market 17 was an all out success! FREE FOOD & DRINKS were had at the Portside Yachting Center in Ft. Lauderdale, on Wednesday evening, November 17, 2010. There were a variety of delicious dishes, from their menu, as well as plenty of refreshing cool cocktails!
Market 17 is a unique farm-to-table organic Fort Lauderdale restaurant that they like to call "wine country cuisine". They focus on excellence and believe in serving delicious creative food with an emphasis on amazing flavor, freshness and prime sourcing. Market 17 only serves the cleanest and freshest food. The fish and seafood are caught by fisherman, the meat and poultry produced by ranchers, and the produce provided by farmers.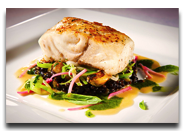 The food at Market 17 will never contain any unnecessary pesticides, chemicals, hormones or steroids. All dishes are prepared from scratch daily, utilizing traditional French techniques, where each ingredient is fully utilized. The menu at Market 17 changes daily and are always offering amazing tasting menus for you to sample what Chef Daniel Ramos has created. Stop in today and taste what the buzz around town is...