JOIN OUR
TOP FLORIDA COSMETOLOGY SCHOOL


552 East Woolbright Road
Boynton Beach, FL 33435
HairDesignInstitute.com
YOUR COSMETOLOGY CAREER BEGINS TODAY!
CALL 561.733.2223
To Speak To A
Career Counselor
Financial Aid Available To Those Who Qualify
Lifetime Job Placement Assistance
COURSES OFFERED
Hairdressing & Cosmetology,
Nail & Waxing Technology
At the Hair Design Institute Cosmetology School your future is our first priority! From our brand new, state-of-the-art 10,000 sq. ft. training facility in Boynton Beach to our highly trained and skilled educators, our focus is on quality. We offer the highest level of cosmetologist training available in the field of cosmetology. We stress hands-on experience, as well as business fundamentals needed in order to prepare our students for an exciting and profitable career in the salon and spa environment.

Our Top Cosmetology Schools in Florida are located in West Palm Beach FL and Orlando FL. We also have Brooklyn NY, Long Island NY and New York City locations. Any one of our cities is right for you to start your new career in hair design and cosmetology.
---
Spa & Salon Services
Available To The Public

HAIR SERVICES, FACIALS, WAXING &
NAIL SERVICES
Hair Design - Menu of Services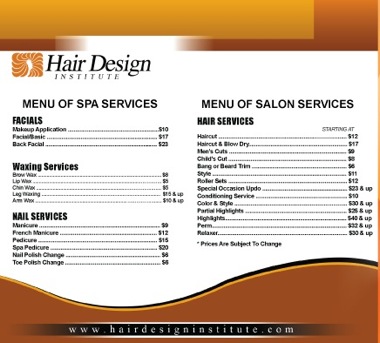 Complimentary $5-OFF Coupon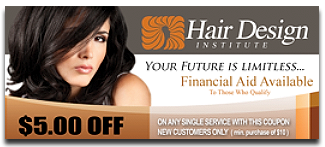 Click Above $5-Off Coupon To Print

Start a Glamorous and Profitable Career!
CALL NOW to speak to a CAREER COUNSELOR
561.733.2223
Now Enrolling Students in:
Cosmetology - Skin Care - Nail Technology

Achieve Your Dreams Through HDI
Do you have the desire and passion of being a top stylist? Do you have dreams of being a salon owner? Whatever it may be, you now have the resources to achieve your goals and dreams with the Hair Design Institute.
With a true commitment to our cosmetology students and the quality of our education, HDI gives aspiring stylists the opportunity to get quality education and hands-on experience inside our Boynton Beach salon schools floor that is open to the public. Our programs are taught by knowledgeable, industry trained, salon experienced instructors who are committed to our students success.
The Hair Design Institute assists graduates with lifetime job placement. Our Florida students are highly recruited by top salons in the country, and we are committed to job placement for everyone. With our strong network of affiliated salons, our students can choose from a list of the area's best salons and spas throughout south Florida or from around the country. While assistance will be provided, the school cannot guarantee employment to any student or graduate. Make the Hair Design Institute your choice and begin your path to success.
Be a part of a creative and glamorous industry. Take classes with seasoned and experienced professionals. Rated as one of the best cosmetology schools, Since 1941.
Hair Design Institute
552 East Woolbright Road
Boynton Beach, FL 33435
561.733.2223
HairDesignInstitute.com

Florida State Board Cosmetology Licenses and Memberships:
Licensed by the Florida
Commission for Independent Education
License # 3896

Member of the AACS
(American Association for Cosmetology Schools)

Accredited by NACCAS
(National Accrediting Commission of
Cosmetology Arts & Sciences, Inc.)

Hair Design Institute Courses
The Hair Design Institute offers exciting courses designed specifically to help you succeed in the cosmetology industry obtaining a State Certification in your chosen field. The Hair Design Institute wants you to follow your passion and find a hairstyling position that you will love. That's why our experienced educators are here to guide you in every step of the way.
Are you busy? Of course you are!
Hair Design Institute makes it very easy to attend a course of study that fits your schedule by offering day and evening programs that include full-time and part-time. For a complete list of available courses and schedules, contact us today to get started 561.733.2223. You will be glad you did!
Hair Design Institute, located in Boynton Beach is our newest school and is located in Palm Beach County in the proximity of beautiful Fort Lauderdale and Miami. The Hair Design Institute offers full and part-time classes and financial aid for those who qualify. Call us today for your new career in cosmetology training at the Hair Design Institute Palm Beach.
HDI is licensed by the Florida Commission of Independent Education, license number 3896, conferring diplomas in the fields of Cosmetology (hair) Nail Technology and Skincare.
HDI has successfully placed students in many of the region's elite salons, spas and medispas, resorts, physician's offices and cruise ships. In other words, cultivating our talents here at HDI opens doors to the very finest opportunities in the spa and Beauty sector and our graduates and alumni are in significant demand by prospective employers.
Call today to schedule a meeting with a
Career Counselor and tour our facility.
Flexible daytime and evening classes are
available on a full-time or part-time basis.
PROGRAMS OFFERED
COSMETOLOGY | SKIN CARE | NAIL TECHNOLOGY

PROGRAM DESCRIPTIONS
Cosmetology | Facial & Nail Technology
COSMETOLOGY
HDI will prepare you for a truly rewarding successful career in the field of cosmetology. HDI's rigourous curriculum prepares its students to master the techniques of hairstyling, cutting and color. Students will receive hands on experience with customers for 7 months developing skills, confidence and business building techniques and preparing you for the salon.
Shampoo & Scalp Treatments
Perms & Relaxers
Hair Coloring
Hair Cutting & Styling
Manicures & Pedicures
Facials & Make Up
Anatomy & Physiology
Sanitation & Sterilization
Salon Management
Professional Development

SKIN CARE PROGRAM
Our skincare program is taught by highly skilled instructors with extensive experience in skin care. As a student you will learn using state-of-the-art equipment and OFRA Cosmetics products which are among the industries finest. Students will be taught skin science, sanitation, anatomy, all aspects of facials, wraps, hair removal, make-up application and more. Upon successful testing and completion of the program students receive a diploma and are qualified to be registered for licensure. Graduating students will be prepared for a position in a high-end spa, hotel or resort.
NAIL TECHNOLOGY
Our Nail Care Program is taught by professional trained and experienced professionals in the field of nail care. Our students will learn manicures, pedicures and artificial nail applications including acrylics, gels and wrapping. Students will receive hands-on experience with clients using top of the line products such as OPI, EZflow and Essie. Students will also learn the Florida State Law, regulations and sanitization.

Complimentary $5-OFF Coupon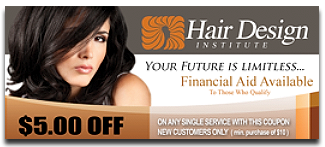 Click Above $5-Off Coupon To Print Out

Located in Boynton Beach, Florida the Hair Design Institute is a licensed cosmetology school awarding diplomas in Cosmetology, Nail Technology and Skin Care.
Pursue your dreams with HAIR DESIGN INSTITUTE
At the Hair Design Institute we offer flexible full time and part time schedules and day and evening classes that students can enroll in. Please call the Admissions Department at 561.733.2223 for detailed cosmetology information.
Pursue your dreams by contacting
Hair Design Institute!

CALL AND SPEAK TO OUR
CAREER COUNSELOR TODAY!
CLASSES ARE FILLING UP FAST!
561.733.2223


552 East Woolbright Road
Boynton Beach, FL 33435
HairDesignInstitute.com