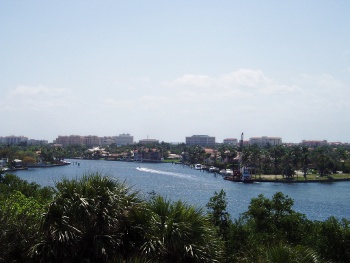 Located 45 miles north of Miami, Boca Raton, Florida is renowned for its luxurious style and is the ideal vacation destination. The city boasts four public beachfront parks, as well as numerous golf courses, museums, restaurants, and shopping areas. Because the city offers a great variety of activities that cater to visitors of all tastes, Boca Raton vacations are always pleasurable.
Boca Raton caters to all budgets, offering both luxury and economy accommodations. For a memorable Boca Raton vacation, the Boca Raton Resort and Club offers high-end lodging with additional features such as a golf course, spa, and marina. The nearby Boca Raton Bridge Hotel is characterized by its upscale oceanfront lodging and also offers vacation packages.

For the budget-minded traveler, a multitude of other Boca Raton hotels are available that still offer a variety of amenities to ensure that a Boca Raton vacation is enjoyable. Travelers can also find lodging at hotels in Fort Lauderdale, another popular vacation destination located 25 miles south of Boca Raton.
While many vacationers opt to stay in a hotel or resort, a variety of other lodging options can be found in the city. For those who desire more space or a longer stay, Boca Raton vacation home rentals are available. Owners are renting out houses and townhouses of a variety of sizes, and those searching for a residence will have little difficulty finding a luxury vacation home in the city.

For travelers who prefer accommodations that are spacious like a vacation home but that provide amenities like a hotel or resort, timeshare rentals are another great alternative. Like vacation homes, these rentals are available in a variety of sizes ranging from studio units to three bedroom suites. Owners will often rent out their timeshares for rather inexpensive prices, as those on a budget are often pleasantly surprised to discover.

Visitors may also find apartments that offer a multitude of options, including furnished or unfurnished, smoking or non-smoking, 1, 2 or 3 bedrooms, and short or long-term. Additionally, the city is well known for its hospitality towards animals, and many Boca Raton apartments are pet-friendly. Potential renters will be pleased with the variety of amenities available and with the scenic tropical views to be seen at many apartments.
Those who visit the city on a regular basis may desire to purchase a condo or house. Boca Raton condos often feature gyms, saunas, marinas, security gates, tennis courts, swimming pools, or even concierge services. Views of the Intracoatal Waterway or the ocean are common in deluxe condos, although several residences are oriented towards buyers on a tighter budget.

Houses for sale in the city range from compact cottages to spacious villas and are available throughout the city. Boca Raton houses are often flanked by a pool, a screen enclosure, and a tropical view consisting of palm trees and unique wildlife.
Florida vacations always involve time on the beach, and a multitude of relaxing beachfront activities are available. The calm, clear waters ensure that swimming is enjoyable year-round. Because Florida experiences over 300 days of sunshine per year, sunbathing on the beach is a popular vacation activity. Additional things to do in Boca Raton beach areas include volleyball, snorkeling, surfing, and parasailing. In the parks adjacent to the beaches and also throughout the city, bike-riding is a popular activity.

Although most days are sunny in Florida, the state does experience thunderstorms. Visitors should check the weather in Boca Raton before heading to the beach. From June to November, hurricanes may pose a threat to the area. However, these storms are well-monitored, and visitors will have enough time to leave Florida. The semi-tropical climate of South Florida is generally comfortable for visitors, although the humidity and heat of the summer may be undesirable to some.
Many people who travel to Boca Raton arrive by plane and require a car rental. Several Boca Raton rentals facilities are conveniently located throughout the city and offer daily or weekly rentals. South Florida airports include those in West Palm Beach, Fort Lauderdale, and Miami, and these locations also offer car rentals to ensure that vacations in Boca Raton are trouble-free.
Palm Beach International Airport and Fort Lauderdale Airport are both about 25 miles from Boca Raton, and many visitors to Boca Raton use these airports. However, Miami International Airport is larger and therefore has flights to and from more locations. The Boca Raton Airport is significantly smaller than the three other airports and caters mostly to private pilots.
For an appropriate introduction to the lavish Florida lifestyle, visitors should indulge in an airport limousine service. Travel by limousine is both prestigious and relaxing, and customers will not be troubled by the stresses of urban traffic.
The Center for the Arts in Mizner Park hosts frequent outdoor events ranging from plays to performances by musicians from a variety of genres. Additionally, a variety of events in Boca Raton are hosted daily at various locations throughout the city. In Fort Lauderdale, which is 25 miles south of Boca Raton, the Bank Atlantic Center features concerts by popular musicians and bands. The Broward Center for Performing Arts hosts a wide array of performances, including ballets, operas, and musicals. There are also bars and nightclubs in which vacationers can enjoy the nightlife of South Florida.
Boca Raton features an array of restaurants that range from fast-food to upscale dining. Additionally, the city's diversity is apparent by the variety of restaurants serving international cuisine. Visitors are always pleased with the selection of food that they encounter on their Boca Raton vacations.
Boca Raton is laden with history, and the Boca Raton Historical Society in Town Hall presents information and artifacts from the city's remarkable past. In Mizner Park, the Boca Raton Museum of Art displays paintings and sculptures dating from the 18th century, along with modern pieces. At the Gumbo Limbo Nature Center, visitors encounter a variety of unique animals, including sea turtles, snakes, and stingrays.

Located just north of Boca Raton in Delray Beach, the Morikami Museum showcases Japanese artifacts and artwork and also includes a large Japanese garden. South Florida also houses two large zoos with animals from almost all of the continents. The Miami Metro Zoo is located in southwest Miami, and the Palm Beach Zoo at Dreher Park is located 25 miles north of Boca Raton.
Because South Florida is renowned for its beautiful blue waters, the ideal Boca Raton vacation includes a boat outing. Boats can be rented from numerous locations, and some marinas also offer yacht charters.
With over 200 stores, the Town Center at Boca Raton offers a pleasant shopping experience for shoppers of all budgets. Mizner Park is an outdoor shopping area located in downtown Boca Raton and is popular with visitors to the city. In Delray Beach, Atlantic Avenue is lined with stores offering art, clothing, souvenirs, and more.
The city is widely known for its large selection of golf courses, and many people vacation in Boca Raton for an opportunity to golf. While many Boca Raton golf courses are private, others such as the oceanfront Red Reef Executive Course are open to the public.
For visitors who enjoy sporting events, several major league sports venues exist in South Florida. The four main sports arenas are located in Fort Lauderdale and Miami and are home to hockey, football, baseball, and basketball teams.

The Bank Atlantic Center in Fort Lauderdale is the location of the Florida Panthers hockey games, and basketball fans can watch the Miami Heat play at the American Airlines Arena in Miami. At the new Dolphin Stadium, the Miami Dolphins hold football games, which are popular South Florida events. Additionally, construction will commence soon for a new state-of-the-art ballpark for the Florida Marlins baseball team in Miami.

Closer to the city, the annual Delray Beach International Tennis Championships showcase the skills of world-renowned tennis players, and other tournaments draw a large number of spectators.
While Boca Raton is the premier vacation option for visitors who desire relaxation and fun, Florida is loaded with cities boasting theme parks, nature preserves, historical buildings, and more. As the third most-visited city in the country, Orlando is well-known for its diverse collection of amusement parks and attractions. The Walt Disney World theme park and resort complex contains four theme parks, two water parks, and twenty-three hotels, which are supplemented by numerous restaurants and shopping areas.

Visitors to Orlando may choose to lodge at upscale resorts within Disney World, such as the Grand Floridian Resort and Spa, or they may reserve space at other hotels throughout the Orlando area. Located adjacent to Universal Studios, the Orlando Hard Rock Hotel is characterized by its celebrity décor and its state-of-the-art technology offerings, including HD television and wireless internet. The variety of accommodations in Orlando is unparalleled by those in other cities, and for this reason the city is accessible to all visitors.

Located on the St. Lucie River in Port St. Lucie, the Sandpiper Club Med Resort is a prime destination for tennis and golf enthusiasts. The resort is all-inclusive and remains a popular family vacation location because of its incomparable selection of sports and activities. The resort's unique accommodations include secluded bungalows and elegant suites.
Additional Vacation Destinations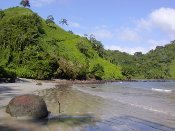 South Florida is a portal to the Caribbean and Central America. Consequently, many visitors to Florida desire to continue their vacations with other trips, such as a cruise to the Bahamas or a trek through the lush Costa Rican rainforests. As indicated by its name, Costa Rica is rich in resources and wildlife, harboring unique animals like the three-toed sloth, the Capuchin monkey, and the spiny-tailed iguana, which is the fastest-lizard in the world. The country is oriented towards tourism, offering luxurious tropical resorts in both urban and secluded settings.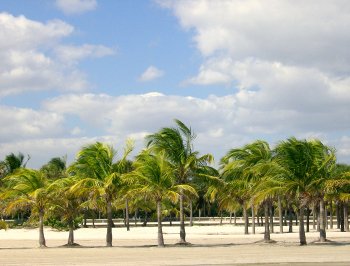 The following is a list of Florida vacation destinations, in alphabetical order:
Altamonte Springs Vacations
Anna Maria Vacations
Apalachicola Vacations
Apopka Vacations
Atlantic Beach Vacations
Auburndale Vacations
Aventura Vacations
Avon Park Vacations
Bal Harbour Vacations
Bartow Vacations
Bay Harbor Islands Vacations
Bonita Springs Vacations
Boynton Beach Vacations
Bradenton Vacations
Brooksville Vacations
Cape Canaveral Vacations
Cape Coral Vacations
Casselberry Vacations
Celebration Vacations
Chipley Vacations
Cinco Bayou Vacations
Clearwater Vacations
Clewiston Vacations
Cocoa Vacations
Cocoa Beach Vacations
Coconut Creek Vacations
Coral Gables Vacations
Coral Springs Vacations
Crystal River Vacations
Dania Beach Vacations
Davie Vacations
Daytona Beach Vacations
DeFuniak Springs Vacations
DeLand Vacations
Deltona Vacations
Destin Vacations
Dunedin Vacations
Eagle Lake Vacations
Edgewater Vacations
Edgewood Vacations
Eustis Vacations
Fort Meade Vacations
Fort Myers Vacations
Fort Myers Beach Vacations
Fort Pierce Vacations
Fort Walton Beach Vacations
Fruitland Park Vacations
Gainesville Vacations
Greenacres Vacations
Green Cove Springs Vacations
Gulf Breeze Vacations
Gulfport Vacations
Haines City Vacations
Hallandale Beach Vacations
Hawthorne Vacations
Hialeah Vacations
Hialeah Gardens Vacations
Highland Beach Vacations
Hollywood Vacations
Holly Hill Vacations
Holmes Beach Vacations
Homestead Vacations
Hypoluxo Vacations
Indialantic Vacations
Jacksonville Vacations
Juno Beach Vacations
Jupiter Vacations
Key Biscayne Vacations
Key West Vacations
Kissimmee Vacations
LaBelle Vacations
Lady Lake Vacations
Lake Alfred Vacations
Lakeland Vacations
Lake Mary Vacations
Lake Park Vacations
Lake Wales Vacations
Lake Worth Vacations
Lantana Vacations
Largo Vacations
Lauderdale-by-the-Sea Vacations
Lauderhill Vacations
Leesburg Vacations
Lighthouse Point Vacations
Longboat Key Vacations
Longwood Vacations
Maitland Vacations
Marco Island Vacations
Margate Vacations
Melbourne Vacations
Melbourne Beach Vacations
Miami Vacations
Miami Beach Vacations
Milton Vacations
Minneola Vacations
Miramar Vacations
Mount Dora Vacations
Naples Vacations
Neptune Beach Vacations
New Port Richey Vacations
New Smyrna Beach Vacations
Niceville Vacations
North Miami Vacations
North Miami Beach Vacations
North Port Vacations
Oakland Park Vacations
Ocala Vacations
Ocean Ridge Vacations
Ocoee Vacations
Okeechobee Vacations
Oldsmar Vacations
Orange Park Vacations
Orlando Vacations
Ormonod Beach Vacations
Oviedo Vacations
Palatka Vacations
Palm Bay Vacations
Palm Beach Vacations
Palm Beach Gardens Vacations
Palm Coast Vacations
Palmetto Vacations
Panama City Vacations
Panama City Beach Vacations
Pembroke Pines Vacations
Pensacola Vacations
Pinecrest Vacations
Pinellas Park Vacations
Plant City Vacations
Plantation Vacations
Pompano Beach Vacations
Ponce Inlet Vacations
Port Orange Vacations
Punta Gorda Vacations
Rockledge Vacations
Royal Palm Beach Vacations
St. Augustine Vacations
St. Augustine Beach Vacations
St. Cloud Vacations
St. Pete Beach Vacations
St. Petersburg Vacations
Safety Harbor Vacations
Sanford Vacations
Sanibel Vacations
Sarasota Vacations
Satellite Beach Vacations
Seaside Vacations
Sebastian Vacations
Sewall's Point Vacations
Shalimar Vacations
Stuart Vacations
Surfside Vacations
Tallahassee Vacations
Tamarac Vacations
Tampa Vacations
Tarpon Springs Vacations
Tavares Vacations
Temple Terrace Vacations
Titusville Vacations
Treasure Island Vacations
Valparaiso Vacations
Venice Vacations
Vero Beach Vacations
Wellington Vacations
West Melbourne Vacations
West Palm Beach Vacations
Weston Vacations
Wilton Manors Vacations
Winter Garden Vacations
Winter Haven Vacations
Winter Park Vacations
Winter Springs Vacations