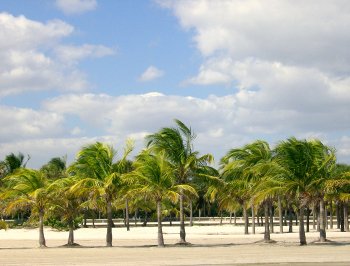 With 1200 miles of sandy beaches, 11 amusement parks, and an average annual temperature in the 70's, Florida is the ideal vacation destination for visitors possessing diverse tastes. The state offers a multitude of activities and attractions, from sight-seeing in St. Augustine to scuba diving in the Florida Keys. Vacations in Florida are feasible for travelers of all budgets, as the state houses lodging facilities ranging from inexpensive to five-star. The list of things to do in Florida is endless; beaches, museums, gardens, zoos, aquariums, amusement parks, and dive sites provide hours of education and entertainment. While popular destinations include Orlando, Miami, Daytona Beach, and Boca Raton, smaller towns offer rustic lodging, beautiful scenery, and unique wildlife not found in other states.
Included below is a compilation of Florida vacation destinations, sorted by county. If a destination is underlined, you may click on it for more information:
Palm Beach County
Renowned for its luxury, the oceanfront city of Boca Raton boasts upscale resorts, several golf courses, and miles of white, sandy beaches that are ideal for relaxation and sunbathing. Beach activities such as swimming in the clear, tranquil waters or watching colorful sunrises are much appreciated by visitors, but additional things to do in the area include trips to the Boca Raton Museum of Art, shopping and entertainment at Mizner Park, and dining at restaurants featuring many types of cuisine. Because of Boca Raton's semi-tropical climate and prime location in South Florida, the city is an excellent travel destination.
The historical city of Delray Beach is a great place for a vacation. Its recently renovated downtown area hosts several fine-dining restaurants, exciting nightclubs, and weekly outdoor art and music festivals. You can stay in an eighty year old hotel complete with modern amenities, and take a stroll along the city's miles of public beaches.
Greenacres Vacations
Highland Beach Vacations
Hypoluxo Vacations
Juno Beach Vacations
Jupiter Vacations
Lake Park Vacations
Lake Worth Vacations
Lantana Vacations
Ocean Ridge Vacations
Palm Beach Vacations
Palm Beach Gardens Vacations
Royal Palm Beach Vacations
Wellington Vacations
West Palm Beach Vacations
Collier County
Located on the Gulf of Mexico in southwest Florida, Naples is an excellent getaway for vacationers looking for white, sandy beaches, world-class golf, luxurious resorts, a diverse dining selection, or an opportunity to view Florida's unique wildlife and scenery. Many visitors flock to Naples annually for a relaxing yet fun-filled vacation, but the large number of beaches and nature preserves in and around the city ensures that many areas remain uncrowded.
St. Lucie County
Offering activities ranging from horseback-riding to professional golf instruction at one of seven 18-hole golf courses, Port St. Lucie is a valuable vacation destination for travelers who desire quality recreation and relaxation. At the PGA Village and Learning Center, visitors will not only be able to perfect their golf skills with expert golf teachers but will also find a historical center housing golf artifacts from the seventeenth century. For quality accommodations, the Sandpiper Club Med Resort offers an all-inclusive vacation package starting at $99 per night, double occupancy. With this package, visitors stay in comfortable rooms, dine at the resort's two restaurants, engage in sports and activities on the resort grounds, and are provided with childcare programs to ensure that their Port St. Lucie vacations are stress-free. Additional activities in the city include canoeing and manatee-viewing on the St. Lucie River, as well as trips to the marine center and other local museums.
Broward County
Fort Lauderdale is now a family-friendly vacation destination, complete with modern hotels, sunny beaches, miles of canals, museums, and an unforgettable skyline. The city is a world-class metropolis, home to world famous restaurants and cruise ports.
While Coral Springs is not currently a tourist destination, construction is underway on a new downtown district that may take advantage of the city's low crime rate and high property values to attract tourists.
Deerfield Beach is a classic Florida vacation town. It's the place to go for beaches, an iconic fishing pier, and a small town atmosphere. Deerfield Beach is also home to quiet waters park and and annual renaissance festival.

The following is a list of Florida vacation destinations, in alphabetical order:
Altamonte Springs Vacations
Anna Maria Vacations
Apalachicola Vacations
Apopka Vacations
Atlantic Beach Vacations
Auburndale Vacations
Aventura Vacations
Avon Park Vacations
Bal Harbour Vacations
Bartow Vacations
Bay Harbor Islands Vacations
Bonita Springs Vacations
Boynton Beach Vacations
Bradenton Vacations
Brooksville Vacations
Cape Canaveral Vacations
Cape Coral Vacations
Casselberry Vacations
Celebration Vacations
Chipley Vacations
Cinco Bayou Vacations
Clearwater Vacations
Clewiston Vacations
Cocoa Vacations
Cocoa Beach Vacations
Coconut Creek Vacations
Coral Gables Vacations
Crystal River Vacations
Dania Beach Vacations
Davie Vacations
Daytona Beach Vacations
DeFuniak Springs Vacations
DeLand Vacations
Deltona Vacations
Destin Vacations
Dunedin Vacations
Eagle Lake Vacations
Edgewater Vacations
Edgewood Vacations
Eustis Vacations
Fort Meade Vacations
Fort Myers Vacations
Fort Myers Beach Vacations
Fort Pierce Vacations
Fort Walton Beach Vacations
Fruitland Park Vacations
Gainesville Vacations
Greenacres Vacations
Green Cove Springs Vacations
Gulf Breeze Vacations
Gulfport Vacations
Haines City Vacations
Hallandale Beach Vacations
Hawthorne Vacations
Hialeah Vacations
Hialeah Gardens Vacations
Highland Beach Vacations
Hollywood Vacations
Holly Hill Vacations
Holmes Beach Vacations
Homestead Vacations
Hypoluxo Vacations
Indialantic Vacations
Jacksonville Vacations
Juno Beach Vacations
Jupiter Vacations
Key Biscayne Vacations
Key West Vacations
Kissimmee Vacations
LaBelle Vacations
Lady Lake Vacations
Lake Alfred Vacations
Lakeland Vacations
Lake Mary Vacations
Lake Park Vacations
Lake Wales Vacations
Lake Worth Vacations
Lantana Vacations
Largo Vacations
Lauderdale-by-the-Sea Vacations
Lauderhill Vacations
Leesburg Vacations
Lighthouse Point Vacations
Longboat Key Vacations
Longwood Vacations
Maitland Vacations
Marco Island Vacations
Margate Vacations
Melbourne Vacations
Melbourne Beach Vacations
Miami Vacations
Miami Beach Vacations
Milton Vacations
Minneola Vacations
Miramar Vacations
Mount Dora Vacations
Naples Vacations
Neptune Beach Vacations
New Port Richey Vacations
New Smyrna Beach Vacations
Niceville Vacations
North Miami Vacations
North Miami Beach Vacations
North Port Vacations
Oakland Park Vacations
Ocala Vacations
Ocean Ridge Vacations
Ocoee Vacations
Okeechobee Vacations
Oldsmar Vacations
Orange Park Vacations
Orlando Vacations
Ormonod Beach Vacations
Oviedo Vacations
Palatka Vacations
Palm Bay Vacations
Palm Beach Vacations
Palm Beach Gardens Vacations
Palm Coast Vacations
Palmetto Vacations
Panama City Vacations
Panama City Beach Vacations
Pembroke Pines Vacations
Pensacola Vacations
Pinecrest Vacations
Pinellas Park Vacations
Plant City Vacations
Plantation Vacations
Pompano Beach Vacations
Ponce Inlet Vacations
Port Orange Vacations
Punta Gorda Vacations
Rockledge Vacations
Royal Palm Beach Vacations
St. Augustine Vacations
St. Augustine Beach Vacations
St. Cloud Vacations
St. Pete Beach Vacations
St. Petersburg Vacations
Safety Harbor Vacations
Sanford Vacations
Sanibel Vacations
Sarasota Vacations
Satellite Beach Vacations
Seaside Vacations
Sebastian Vacations
Sewall's Point Vacations
Shalimar Vacations
Stuart Vacations
Surfside Vacations
Tallahassee Vacations
Tamarac Vacations
Tampa Vacations
Tarpon Springs Vacations
Tavares Vacations
Temple Terrace Vacations
Titusville Vacations
Treasure Island Vacations
Valparaiso Vacations
Venice Vacations
Vero Beach Vacations
Wellington Vacations
West Melbourne Vacations
West Palm Beach Vacations
Weston Vacations
Wilton Manors Vacations
Winter Garden Vacations
Winter Haven Vacations
Winter Park Vacations
Winter Springs Vacations