"ELLIPTIGO"
Outdoor Elliptical Cycle
names Busy Body/Gyms To Go as the exclusive retailer in NINE (9) FLORIDA locations.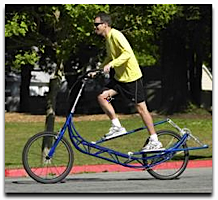 Busy Body/Gyms To Go
headquarter in Pompano Beach, FL is named exclusive retailer for ElliptiGO, an Outdoor Elliptical Cycle. Busy Body / Gyms To Go is south Florida's premier home fitness equipment provider that offers workout enthusiasts the newest and most highly anticipated outdoor exercise machinery – the ElliptiGO, a fitness device that combines the functionality of an indoor elliptical with the mobility of an outdoor bicycle, which emulates running outdoors without the associated impact. The ElliptiGO is exclusively available at all nine (9) Busy Body/Gyms to Go locations throughout south Florida; Boca Raton, West Palm Beach, Royal Palm Beach, Pompano Beach, Pembroke Pines, South Miami, Orlando, Tampa & Tallahassee.
"Busy Body/Gyms to Go prides itself on offering the most innovative and efficient exercise equipment to customers," said Carlos Vazquez, President of Busy Body/Gyms to Go. "The ElliptiGO combines the low-impact workout one would get on an elliptical with the outdoor freedom of a bicycle – an extremely popular combination that has experienced great success on the West Coast in areas such as California. It only seemed natural to bring the ElliptiGO to South Florida workout enthusiasts since outdoor exercise is so common. We are thrilled to make the ElliptiGO available to our local customers at all of our Florida locations in addition to still offering unrivaled expert advice on all home fitness equipment."
The ElliptiGO possesses four primary features that qualify it as an "elliptical bicycle": it is used outdoors, it has two wheels, it is propelled by an elliptical motion that emulates running, and it performs similarly to a conventional road bike in terms of speed and handling. The key difference between the ElliptiGO and a traditional bicycle is that the ElliptiGO offers a low-impact source of exercise that more closely emulates the natural motion of outdoor running, a design developed by runners for runners – that actually keeps the rider's torso upright and feet moving in an elliptical pattern. A traditional bicycle forces riders into a hunched position leaning over the handle bars and keeps feet moving in a circular pattern.
Overall the ElliptiGO provides an experience that is much closer to actual running than bicycling. Benefits of the ElliptiGO include reduced pain caused by the hunched over riding position from a traditional bicycle; a more comfortable workout position by elimination of the seat which generally causes numbness or discomfort; the ability to easily balance the ElliptiGO due to the standing position while working out; and of course a low-impact yet effective work-out outdoors. The ElliptiGO retails for approximately $2,199.00 at Busy-Body/Gyms to Go and is available at Florida locations, as well locations in Atlanta and Savannah, GA.
Busy Body/Gyms to Go offers the largest selection of the highest quality brands available in Home Fitness Equipment at all price points, including the most reliable home fitness equipment such as treadmills, bikes, ellipticals, climbers, home gyms, free weights, and accessories. They are the distributor for top brands and equipment lines in America such as Precor and Life Fitness, and have a large wholesales division outfitting fitness centers across Florida in high-profile residential Country Clubs and more. Products are tested for reliability and backed with the best service and installation in the industry. Busy Body/Gyms to Go has a dedicated service department that will work exceedingly hard to meet all of customer service needs. The valued staff includes multiple service coordinators and experienced service technicians available for residential and commercial servicing. Busy Body/Gyms to Go is jointly owned by Jonathan Larkin, CEO of Busy Body/Gyms to Go and Carlos Vazquez, President.
Call 954.781.1787
To Purchase This Amazing Fitness Cycle!
or Visit: GymsToGo.com