Cosmetic Laser Treatments
Cosmetic dermatologists use lasers or xenon flash lamps to remove hair. This process is based in the idea that darker areas, such as the follicle (the area of the skin where a hair is produced), absorb radiation more readily than lighter areas. The laser destroys the follicle, resulting in long term (though not permanent) hair growth elimination. Boca Raton laser hair removal centers must provide several treatments to completely eliminate unwanted hair, because not all follicles on the skin are active at a given time. Also, the treatment doesn't work on patients with dark skin, for reasons explained above. Side effects of laser hair removal may include discoloration of the skin, swelling around the destroyed follicles, and purpura.
Many tattoo recipients realize that their markings end up making it harder to find a job, and may be detrimental to their lives in other ways. Laser tattoo removal is able to completely remove some tattoos, and partially remove others. It is, unfortunately, an extremely painful process, and may leave permanent scarring. Optimum results are only usually achieved after multiple removal sessions. Contact a Boca Raton tattoo removal specialist for more information.
Cosmetic dermatologists often use lasers to remove visible, dilated veins (usually called "spider veins", but more scientifically called telangiectasias) deemed to be unsightly and superficial. Lasers are also used for varicose vein removal. The process usually involves ultrasound guidance, and sometimes involves moving the laser device through the vein. Recovery times are usually quick.
Laser resurfacing is a process in which molecular bonds in the skin are broken down using lasers. This forces the body to heal the affected skin, and can correct a number of cosmetic problems, including visible aspects of sun damage, acne scars, undesirable skin texture, age spots, and stretch marks. Ablative laser resurfacing is the use of lasers that are absorbed by and affect the top layers of the skin. Non-ablative laser resurfacing uses lasers that produce radiation at a wavelength that passes through the outermost layer of the skin and is absorbed by the inner layers. Fractional resurfacing is a technique in which the laser radiation is split into numerous pinpoints that affect ablation on a fraction of the skin area targeted, leaving portions of unaffected skin between the affected skin. Contact one of our cosmetics community partners to find out which treatment is right for you.
While not really having anything to do with lasers, LED therapy uses normal light to reduce the appearance of wrinkles, increase skin softness, and alleviate the visible affects of long-term sun damage. This technique has been shown to produce results by clinical trials conducted by Boca Raton's own Doctor David Goldberg.
Boca Raton Cellulite Treatments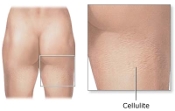 Cellulite is a dimpled or otherwise uneven skin appearance that manifests on the thighs, backs, and stomachs of most American women and some men. While many in the cosmetic industry try to sell products and services which they claim cure or reduce the appearance of cellulite, there is no treatment for cellulite that has been scientifically shown to work. Some procedures may produce limited and very temporary results, but these results are often due to the swelling that is a side effect of whatever procedure has been performed.
BocaRaton.com & the Bites! Network's Coverage Area

Since BocaRaton.com is part of the Bites! Network, an ever-expanding system of community websites spanning across South Florida, we are able to offer our community partners in the cosmetic industry exposure in many cities. If you are a doctor who works with cosmetic lasers, or if you represent one, and would like to apply for consideration to become a community partner of the Bites! Network, please call 561.338.7594 or e-mail us for more information. Our goal is to increase awareness for the following categories: West Palm Beach laser treatments, Fort Lauderdale laser treatments, Miami laser treatments, Broward laser treatments, Delray Beach laser treatments, Coral Springs laser treatments, Deerfield Beach laser treatments, and all other laser procedures.