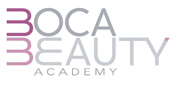 7820 W. Glades Road, Boca Raton, FL 33434
BocaBeauty.com


Boca Beauty Academy is the official carrier of:


Enter Into A Lucrative Career Today!

Call For Our Class Schedule 561.487.1191.

Job Placement Assistance & Financial Assistance Available

Boca Beauty Academy is a licensed vocational school conferring diplomas in the fields of Cosmetology (Hair), Electrolysis (Laser Hair Removal), Skin Care (Esthetics), Massage Therapy, Nail Technology, Make-up Artistry, Permanent Make-up, Microdermabrasion, and Instructor Training. Our new waterfront campus is ideally located in the "Beverly Hills of the Southeast" in sunny Boca Raton, Florida.

Boca Beauty Academy has a long and distinguished history as a leader in spa and beauty education. Our graduates are aggressively recruited each year for roles in elite salons and spas, cruise ships, resorts, & medical practices throughout the United States and overseas. Our students are special and are a direct reflection of our teaching ability. Our reputation depends on their future success and work habits. We recognize that each student is unique and learn at different speeds. We adjust our approach to each student's needs to mentor them carefully and sensitively. We take a great deal of pride in our graduates which is reflected in our strong alumni network and our active job placement program.

We have been selected by the acknowledged industry leaders in each product space as their official South Florida school: MATRIX, OPI, MAC, Pevonia, & Biotone.

Boca Beauty Academy has successfully placed students in many of the region's elite salons, spas and medispas, resorts, physician's offices, and cruise ships. In other words, cultivating your talents here at Boca Beauty Academy opens doors to very finest opportunities in the Spa and Beauty sector and our graduates and alumni are in significant demand by prospective employers.

Call today to arrange a tour of Boca Beauty Academy's state-of-the-art, green-certified facility encompassing the latest technology, a campus store, student lounge, library & research center, student clinics, a computer lab, beautifully designed educational suites and ample parking.

Flexible Daytime and Evening classes are available on a Full time or Part time basis.
Boca Beauty Academy
7820 W. Glades Road
Boca Raton, Florida 33434
561-487-1191
BocaBeauty.com
Click to connect with us on Facebook!

Licenses and Memberships:
Licensed by the Florida Department of Education, Commission for Independent Education. License # 3003
Member of the AACS (American Association for Cosmetology Schools)
Member AMTA (American Massage Therapy Association)
Member of NCA (National Cosmetology Association)
Member of FAPSC (Florida Association of Postsecondary Schools)
Se Habla Espanol
I-20 Immigration approval for student & exchange visitor program.
Student financing available to those that qualify.

Programs of Study offered at Boca Beauty Academy

Cosmetology
Boca Beauty Academy is South Florida's official MATRIX academy!
Cosmetology is a high energy and continually evolving in style as well as technology. Boca Beauty Academy will prepare you for a career in cosmetology that's truly rewarding. Explore Boca Beauty Academy's rigorous educational program where students master the techniques of style, cut, color, permanent (curls or straightening) and extensions.
(1200 clock hours for State License required) Upon graduation, students will receive a Diploma and will be qualified to sit for the state board examination.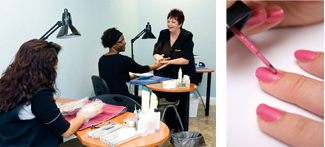 Nail Technology
Manicures, pedicures and all artificial nail applications including gels, acrylics, and silk wraps are taught using only the elite OPI Nail products. Knowledgeable instructors, equipped with the latest technology and the finest OPI products and equipment; offer all encompassing, hands-on instruction covering technique, biology and the study of the many products used today.
(240 clock hours for State License required) Upon successful testing and completion of their program, students receive a Diploma and are qualified to be registered for licensure.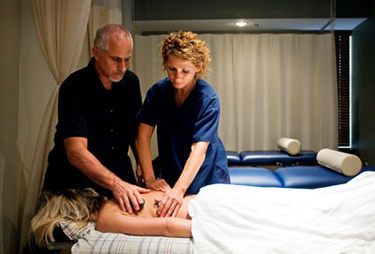 Massage Therapy
An emergence of old world philosophy with progressive new technique has opened the doors to the growing world of massage. Boca Beauty Academy educates students on all modalities of massage ranging from reflexology to Swedish and deep tissue massage and chair massage as well as exposure to Shiatsu and Thai massage. The curriculum at Boca beauty academy offers intensive hands-on instruction in massage practice as well as anatomy & physiology and pathology are taught in a serene clinical environment for study. Students are rigorously prepared for the Massage Therapist National Certification Board Examination.
(50 Clock hours for State License required) Upon graduation students receive a diploma and will be qualified to sit for the National Board Examination.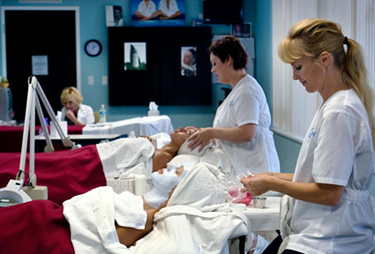 Skincare / Esthetics
Boca Beauty Academy has emerged as a leader in education in the fields of anti-aging techniques. Whether due to environmental influences, advancements in technology, or natural aging, today's skincare industry has grown at a resounding pace. Boca Beauty Academy prepares students for a well rounded career in skincare whether you aspire to work in the tranquil setting of a spa or the clinical environment of a dermatology practice. Our intensive course study will take students through all aspects of facials and wraps and provide exposure to advanced skincare treatments including microdermabrasian, chemical peels, photorejuvenation/ light therapy, and hair removal techniques. As a student, you will learn using state-of-the-art equipment in conjunction with only the finest professional skin care products by Dermologica.
(260 Clock hours for State License required) Upon successful testing and completion of their program, students receive a Diploma and are qualified to be registered for licensure.


Make-up Artistry / Permanent Makeup
From the pages of the fashion magazines to the faces of celebrities on the big screen, make-up artistry is at the forefront of the exciting world of beauty. A career in make-up artistry can take one into the fast paced world of media make-up, print, video & music, runway, film & TV, and bridal.
At Boca Beauty Academy, student coursework encompasses application and skincare product knowledge; anatomy and physiology; as well as the study of color and corrective techniques.
Advanced course study in a career of make-up artistry prepares students in the disciplines of Media make-up/ airbrushing, permanent make-up application and all aspects of micropigmentation (paramedical make-up application).
(20 hour diploma program)

Instructor Training
For those currently licensed in the health and beauty industry and students alike, instructor training by Boca Beauty Academy has produced well educated, highly qualified instructors in the areas of cosmetology, skincare, massage therapy, nail technology and make-up artistry. Graduates will be well suited to function as Instructors in schools as well as educators for various beauty product lines.
Coursework for a rewarding career in health and beauty instruction encompasses: teaching principles and methods; lesson planning and coursework development; testing; classroom management; and the psychology and art of teaching. The rigorous program offers extensive hands-on training.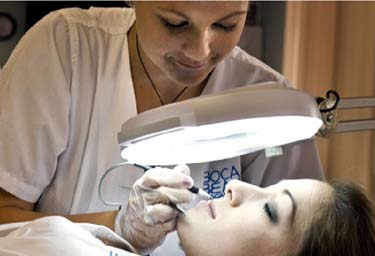 Electrologist (Laser Hair Removal)
Become a fully trained and licensed Electrologist at Boca Beauty Academy. Plentiful employment opportunities exist in physicians offices such as Dermatologists, Plastic Surgeons, and Medi-Spas and Salons. At Boca Beauty Academy our training covers all aspects of permanent hair removal including short wave, blend, and multiple galvanic methods of electrolysis. Students will learn the highest standards of sterilization, the structure of hair and skin, as well as business management to launch their career in permanent hair removal.

(30 clock hour certification course)

Upon graduation, a certificate in Laser Hair Removal will be awarded and students will be qualified to take our 30 hour certification course in Laser Hair Removal in preparation for the bi-annual state board examination in Electrolysis.

Permanent MakeUp
This program is designed to teach students correct methods of makeup application for permanent makeup. At the end of the course the student will be a CDT "Certified Derma Technologist". We offer classes focusing on Micro-Pigmentation Procedures, Proper Makeup Placement, Color Theory, Anatomy and Physiology, Sanitation, Safety and Sterilization and much more.
(50 clock hours for State License required)

Microdermabrasion
This program introduces progressive new practices into the esthetician or cosmetology repertoire, teaching students the proper methods of microdermabrasion.
(6 Clock Hours for State License Required)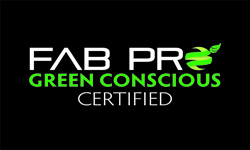 GREEN BEAUTY
Eco-friendly Salons
- Green questions to ask when you are deciding where to use your cosmetology license or finding a new place to get your hair cut. Organic Beauty Products - What's in a name? Understand the ingredients in your cosmetics and what kind of regulation exists for natural and organic beauty product labeling.
The Beauty Industry Goes Green
- It's not just about Earth Day anymore. See how companies in the beauty industry are taking strides to be more eco-friendly.
Eco-friendly Beauty Products
- Learn how to stay gorgeous while maintaining an environmentally safe makeup bag!
Chemicals in Beauty Products
- Harsh chemicals can be found in many beauty products, along with 9,000 other untested ingredients. Learn how to choose the safest products. Organic / Natural Shampoo - The bad news and good news on hair care products, their safety, and your health!

Located in Boca Raton, Florida Boca Beauty Academy is a licensed vocational school awarding diplomas in Cosmetology, Skin, Massage, Therapy, Nail Technology, Make-Up Artistry, Permanent Make-up, Microdermabrasion, Electrolysis and Instructor Training. We encourage out-of-state applicants to visit our campus.
Pursue your dreams with Boca Beauty Academy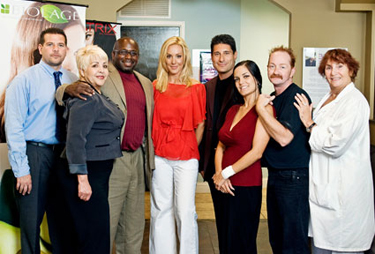 At Boca Beauty Academy we have flexible hours, day and evening classes for students to enroll part-time or full-time at our academy. Please call the Admissions Department for more information: 561.487.1191
Classes fill up fast!
HOURS:
Days: Monday – Friday: 9 AM - 3 PM Saturday: 10 AM – 4 PM
Evenings: Monday – Thursday: 6 PM – 10 PM

Remember, if you're looking for a great (and well priced) massage, make up artistry, hair cut & color, facial, etc, call Boca Beauty Academy for a menu of services and to book your appointment today. 561.487.1191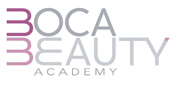 7820 W. Glades Road, Boca Raton, FL 33434
BocaBeauty.com