The Business Of Green
Welcome
Kevin Gale
Editor-in-Chief, South Florida Business Journal

Business Of Green Panel One
-General Business
Moderator, Paul Brinkmann
Reporter, South Florida Business Journal

Business Of Green Panel Two
-Real Estate
Moderator, Darcie Lunsford
Real Estate Editor, South Florida Business Journal

Panel One

Paul D' Arelli,
An attorney with Greenberg Traurig LLP, is the fifth LEED-accredited professional attorney in the U.S. and first in Florida. He assists clients in green building and sustainability initiatives, including helping them understand, evaluate and navigate the LEED certification process.
Diana Dobin
Is a senior VP of Valley Forge Fabrics, the largest decorative fabric supplier to the hospitality industry. The company's fresh fabrics have 100% recycled content and are recyclable at the end of their life through Valley Forge's established reclamation program.
Dr.Heike Lueger,
Carbon Solutions American's chief environmental scientist is responsible for devolving and continually refining the firm's carbon foot printing methodology.
Yalmaz Siddiqui
Is director of environmental strategy for office depot, responsible for guiding the retailer's global environmental vision to 'increasing buy green, be green and sell green.
Panel Two

Olga G. Alvarez
Is owner and principal of Project Coordinating Services LLC, a LEED consulting and interior design firm the focuses on minimizing the environmental impact of materials in interior spaces.
Nick Gunia
Is president of Alterna Corp. The leading green building products distributor in the Southeast and the Caribbean. He is also the co-founder and chairman of Dream The Green. A nonprofit organization for educating K-12 students about environmental and energy challenges.
Rob Hink
Is principle with the Spinnaker Group, a consulting firm focused on green building and based in Weston. With 25 years of experience, he is a LEED-accredited professional with expertise in mechanical engineering, sustainability, and green building a design.
William Holly
Is the chairman and CEO of Holly Real Estate. Known for its leadership in green building initiatives, it is currently developing Miami's first green office condo building, Miami Green.
Frank Navarro
Is co-founder and president of Navarro Lowery. He lead's the company's business venture while also developing and executing new business strategies. Navarro focuses on innovative building programs, leading the effort to establish the firm's Green imitative and EcoPlex brand.
Bruce W. Retzch
Is founder and principal of RLC Architects. His diverse project experience includes corporate office building, residential developments and mixed-use projects.
David Seigel
Is president of Stiles Asset Services, where he oversees the development, reality and property management divisions of Stiles Corp. Previously the company's VP of development, he oversees the development of Sawgrass International Corporate Park.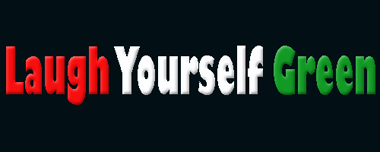 Throughout modern scientific history, studies conducted under various levels of control and garnering various levels of acceptance in the academic community have come to a common conclusion regarding the concept of humor: it is good. This is especially true in both educational settings and when dealing with controversial subjects. The Presidential Press Dinner, for example, is always an opportunity for a president to unite people in laughter regardless of their approval rating.
Humor can also be useful when education is the purpose. According to an Israeli study, college students retained information more effectively from lectures in which humor was utilized than from lectures that were kept devoid of humor.
This is why BocaRaton.com & The Bites! Network decided to start the "Laugh Yourself Green" project. Environmental protection is often a controversial subject. Many blame environmentalism for the current "energy crisis", and some people even see environmentalism as a conspiracy to increase government regulation and drive America towards communism. In lieu of engaging in the traditional Internet shouting match, BocaRaton.com & The Bites! Network strives to make environmentalism fun. We have assembled a team of comedians who are willing and able to use their refined mastery of the art of humor to engage the community on issues such as global warming, habitat loss, and environmental contamination. We hope to resonate with the community in order to create a social wave that will go on to solve these problems.
BocaRaton.com is hosting an event next year, if you are interested in sponsoring or joining the event please Email us at Laugh@BocaRaton.com or call 561.338.7877