The Natural Fat Burner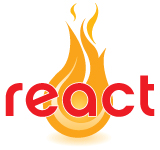 clean energy formula
increase energy, endurance, and focus for workouts*
burn a higher percentage of calories from body fat*
burn more fat calories even when not working out*
reduce caloric intake safely by getting fuller faster*
no jitters; no side effects; no synthetic chemicals*
a synergistic blend of powerful natural ingredients
and patented herbal extracts
---
Relive Research & Development read II. May 2010
Improve your energy naturally
Whether we are studying for an exam, working long hours at our jobs, chasing after our little ones, or pushing ourselves to the limit in the gym or on the playing field (or is some cases all of the above), our busy lives require a lot of energy, focus, and endurance and sometimes we need that extra boost.  Where do you get it? Caffeine?  Energy drinks? Coffee?  Prescription drugs?  Sugar?  Fat burners? ... Well, now there is React™, the all natural energy supplement to provide you with sustained energy and focus utilizing the power of six natural extracts and enabling you to use your own stores of energy (body fat) for your daily lives, workouts, and sport.  The benefit of React™ over your other choices is that not only do you get the energy you want and the focus you need, but you also get selective fat burning and a dose of antioxidants and phytochemicals to improve your overall health without the usual side effects or added calories. Summer is coming so time get that body beach ready. Enjoy nature!
Why you need an energy supplement
In a perfect world, we would all have access to fresh organic fruits and vegetables, lean sources of proteins and essential fatty acids, whole grain complex carbohydrates, and the knowledge, time, and ability to prepare these in a healthy way in the proper proportions (or at least have access to someone who could do it for us).  And then we would also have the training and time to exercise 30-60 minutes per day to keep our bodies strong and able to handle stresses of work and play.  And then there would be no oil spills in the Gulf, no bombing attempts in Times Square, no poverty, no war....do I need to say more to get to the point!?! Well, guess what?  Our bodies are a reflection of the world.  In fact, each of us is our own little world. Except in this case, you can actually be in control!   Looking at the brief existence of our species, we are actually in pretty rough shape, but we are starting to become more aware of how our unconscious and selfish actions have contributed to the poor state of the health, economy, and environment we now experience.  Take a moment to think about what type of things you put into your body and how you treat your "vehicle of life".  Take a moment to think how you can improve.  Make a conscious choice. You can't blame your choices on the companies for selling you harmful products, drugs, or foods with little nutritional value and polluting your body with trans-fats, high fructose corn syrup, or synthetic chemicals and additives!  Companies only sell, it is the consumer that buys.  It is true there should be more education, less flashy marketing, and less selling for profit, but that is a shared responsibility.  My goal with these newsletters is to educate and hopefully provoke thought, questions, and more conscious choices and action.  My supplemental formulae may not be what you need, but they will effectively do what they are designed to do when you take them with my recommendations.  I look forward to any comments or questions you may on them, or on health, nutrition, supplementation or exercise.  Although I may not have all the answers, I can give you my educated opinion and point you in the direction of an expert or reference. Thank you for taking the time to actually read this email, conscious action is contagious too, and your family, friends, and community will all benefit.
---
More energy and less body fat! Naturally
Relive Research & Development, Corp has produced the solution and we provide it to you at a tremendous value (less than $1 per serving).  Right now take advantage of free shipping for all online orders in this Mother's Day month of May.  Save even more when with 10% off on an order of two bottles or save 33% on an order of three bottles* and shed some fat ready for summer with the fat burning results from consistent use. This is not your immature energy drink, fat burner or diet pill.  This is conscious sports nutrition. React natural energy supplement and fat burner 40 servings $29.99* - Regular Price: $39.99 per bottle (40 vegetarian capsules) - S & H: my treat this month (my Mother likes free shipping offers) throughout the Continental US.
---
React™ ingredient spotlight: One more reason Green Tea is so amazing!  When you understand how the biochemistry of the body works, you can reap great rewards from the proper use of nutritional ingredients especially when combined with physical efforts.  Don't worry, we have done the research for you and will make it easy to understand.  Our website lists each of the ingredients in the React™ formula and a brief summary of their method of action.  You probably know that green tea is high in beneficial anti-aging antioxidants and you may think it has a little caffeine as well.  There are thousands of studies to prove the benefits touted by green tea for weight management and improvement of overall health and longevity  (just do a simple google search on green tea benefits). For our purpose, we focus on the action of the catechin components, most notably EpiGalloCatechinGallate (EGCG) and how it contributes to the effectiveness of the React™ formula.
---

Visit their website at ReliveCorp.com for more information and to order online for home delivery, or visit one of their approved retailers. Makre sure to enter BocaRaton.com in the "How did you find out about React?" question on checkout.

Concious sports nutrition and environmentally sustainable lifestyle choices.

*These statements have not been evaulated by the FDA. This product is not intended to diagnose, treat, prevent, or cure any disease or illness.