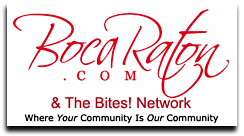 BocaRaton.com -- "is the # 1 trafficked Community Website servicing Boca Raton!"
BocaRaton.com has been servicing local Boca Raton, Florida residents as well as guests throughout South Florida for over 28 years. Our mission connects businesses and organizations to the greater community. Our strong Internet presence and expertise in services such as Search Engine Optimization (SEO), Event Planning and Promotion, Event Sponsorships, Video Production, Photography, Social Media Marketing, Internet Marketing and Advertising, Public Relations, Email Newsletter Campaigns, Website and Graphic Design, Media Buying, and Printing Services is what we call our "Total Marketing Campaign". Together these Marketing Solutions offer a turnkey approach to all of your marketing needs.
Through these Total Marketing Campaign Solutions, BocaRaton.com effectively manages marketing campaigns from Palm Beach all the way down to Miami Beach, as well as global campaigns. In addition, our staff acts as business consultants to assist with business planning and decision making. With the Internet being the top resource for information related to dining, entertainment, products and services, community news and events, we've created opportunities for businesses to reach these Internet savvy customers in the most targeted and cost-effective way that is both measurable and trackable.
With one click, BocaRaton.com is your information and entertainment portal. This one-stop-shop provides a sneak peek into some of the exciting events happening in your community. With profiles highlighting our Community Partners, you will get a special glimpse of the services available in your neighborhood. By browsing through our pages, you are gaining access to the world around you without leaving the comfort of your own home or office. Just one click can help you decide where to shop, where to eat and where to pamper yourself. It gives you insight into the business and financial community and even helps you find the home of your dreams.
BocaRaton.com is the perfect marketing vehicle for any business looking to target their audience and expand their products and / or services throughout the community. With state-of-the-art video production services and expertise in search engine optimization (SEO) we have raised BocaRaton.com to the top of all of the major search engines. As our exposure on the Internet increases so does our clients'.
We provide out-of-the-box strategies for our Community Partners to reach their audience in a new, well-rounded approach. Our partners know that print media does not reach the market the way it used to. Consumers currently rely on the Internet to assist with daily lifestyle choices. BocaRaton.com bridges the gap and helps our partners enter a new realm in competitive marketing.
BocaRaton.com also knows the value of valuable networking. We work hand-in-hand with people in-the-know in our area to form strategic alliances, including the South Florida Business Journal, Jobing.com, the local Chambers of Commerce, arts and entertainment channels, non-profit organizations, educational institutions, local media and more.
BocaRaton.com is bridging the gap and unleashing a world of possibilities for you our visitor and our community partners!