JUICEBLENDZ ANNOUNCES
GRAND OPENING OF
NEW LOCATION AT
FLORIDA ATLANTIC UNIVERSITY
Florida Atlantic community welcomes the nutritious and delicious smoothie and juice bar franchise to Boca Raton campus.
Call JuiceBlendz Today
866.525.3639 | JuiceBlendz.com
JUICEBLENDZ, a national franchise featuring the perfect all-natural blend of taste and health, is pleased to announce the grand opening of its newest location in Boca Raton, FL on the Campus of Florida Atlantic University (FAU). JUICEBLENDZ is now blending its nutritious and delicious smoothiez, wrapz and saladz in the Breezeway Food Court on the FAU Campus, located at 777 Glades Road in Boca Raton, Florida.
"We are thrilled to have the support of the Florida Atlantic community, and excited to offer our product to staff and students seeking a nutritious alternative for meals," says JUICEBLENDZ founder and CEO Adam Ogden. "As the JUICEBLENDZ brand continues to develop and strengthen, we remain dedicated to providing the highest quality product. What sets us apart from the competition is that JUICEBLENDZ only uses natural ingredients – no sugary mixes, chemical sweeteners or frozen purees. Our product is blended with only real fruit and nutritional supplements for energy, weight loss and muscle gain, which makes our brand a perfect healthy option for Florida Atlantic staff and students."
JUICEBLENDZ offers more than 25 smoothies, with names such as Strawberry Samba made with strawberries, bananas, fat-free yogurt, skim milk and a dash of honey. Orange Blendz, a summer favorite, is made with freshly squeezed orange juice, strawberries and orange sherbet. The Dr. JB is another popular item, made with freshly squeezed orange juice, juiced organic carrots, and a shot of wheat grass, garnished with an orange slice and presented on a silver platter. The smoothie and juice bar menu is complemented by an EATZ menu consisting of breakfast bagelz, wrapz, sandwichez, as well as soupz, sidez and saladz.
JUICEBLENDZ franchises its unique brand of delicious and nutritious, all-natural smoothies, juices, eats and dietary supplements in a family-friendly atmosphere. JUICEBLENDZ began franchising in 2005 and is headquartered in South Florida. JUICEBLENDZ currently has 18 sites open, with plans to open additional locations in 2010-2011 throughout the country.
For More Information Call:
866.525.3639
or Visit Us Online at:
JuiceBlendz.com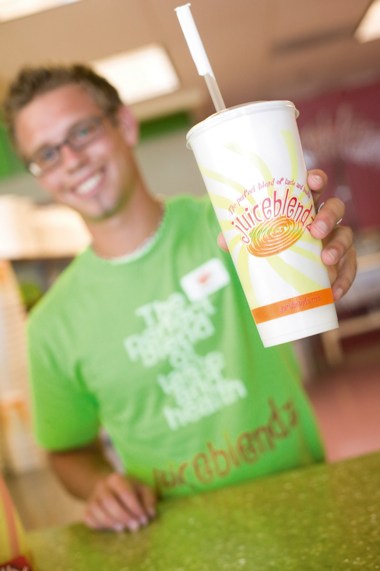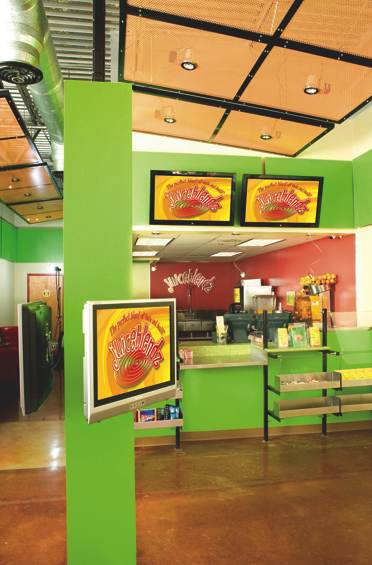 JuiceBlendz
Breezeway Food Court | FAU Campus
777 Glades Road
Boca Raton, FL 33486
Phone: 866.525.3639