Empathy Care, Inc. is a Medicare-certified home health care agency that offers skilled nursing and therapeutic services throughout Palm Beach and Broward counties. We offer all levels of care for people transitioning from a hospital, nursing home or rehabilitative facility back into their homes. Our skilled staff is certified and trained to handle situations that require tasks and services that family members aren't equipped to handle on their own. We are also available for people that are not in a state of transition, but would like assistance in their homes to help minimize the future need of an institutional setting.
Our home care services provide our clients with every day non-medical services on a full or part-time basis for long-term or short term needs. We also provide post-hospital recovery assistance. Our services include:
For More Information Contact us:
CALL TODAY!
561.338.7594
Our Professional Services

Our nursing and therapy staff are thoroughly screened, licensed, bonded, insured and dependable while meeting and often exceeding the standards required by the state of Florida. Services are available on a full or part-time basis for long or short-term needs. A registered nurse is on call 24 hours a day. We offer:
Registered nurses
Licenses practical nurses
Certified nursing assistants and home health –aids, supervised by an RN/Care Manager
Physical, Occupational and Speech Therapists
Medication management
IV therapy
Respiratory care
Medical assessments
Nutritional supervision
Anodyne therapy
Liaison with other professionals, such as therapists, doctors and social workers
Low vision program
For More Information Contact us:
CALL TODAY!
561.338.7594
Testimonials: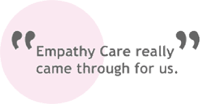 I just wanted to drop you a note to tell you how wonderful your nurse was for my husband. He was a warm and caring human being as well as a marvelous nurse, and for several months was a true angel for my husband. My husband's shower nurse was truly outstanding as well. She was very professional as well as being warm and concerned. Empathy Care really came through for us.

Sincerely,
Roz H.
From owning a business and being very much a "diva" just a few years ago my mother reached the stage in her life where she was no longer able to manage her affairs. When I moved her to the Veranda Club (a senior living retirement community) she was not happy. However, the Empathy Care team was not daunted and soon became the people that my mother and I came to count on to preserve the thread of life that becomes so difficult as one ages. I am heartened by the time she had with the Empathy Care staff and how much they meant to her and hopefully, she to them.

Sincerely,
Mark D.
I would like to show my appreciation to the nurse who you sent out. She was very caring and very helpful to me on a professional and personal level. I felt that I could trust and depend on her for all my health reasons. I have had other RNs in the past, and they should all be as professional and courteous as your nurse was with me.

Sincerely,
Anna P.
I wanted to let you know of my high regard for you and your company. Your head of nursing, who is a very nice lady, has taken care of me on several occasions. I also had the good fortune to have another nurse take care of my leg wounds, and his professionalism was outstanding. Thank you for all your help and your staff's wonderful service.

Sincerely,
Eugene L.
Our services are currently offered in:
Boca Raton
Boyton Beach
Delray Beach
Coral Springs
Deerfield Beach
Lake Worth
Wellington
Pompano Beach
Tamarac
Margate
Parkland
Coconut Creek
Empathy Care, Inc.
3350 N.W. Boca Raton Blvd.
Suite A14
Boca Raton, FL 33431
CALL TODAY
FOR MORE INFORMATION!
561.338.7594