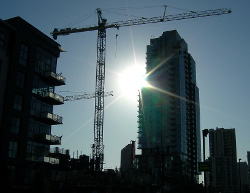 There is a booming market for salvage building materials right now, and the business of recycled building materials is both environmentally friendly and extremely profitable for sellers, buyers, and processors. Most metals and alloys can be melted down and reused again and again, and entire parts of buildings demolished buildings, such as windows, pipes, toilets, counters, and doors can sometimes be used in new buildings or in renovations. A famous example of the reuse of raw materials is the construction of the USS New York from the melted-down wreckage of the World Trade Center. More unusual methods of recycling have been employed in building construction. For example, buildings are sometimes constructed from metal cans, glass bottles, or old tires bound with cement. Even old shipping containers have been used to construct houses and other buildings.
The use of recycled building materials reduces environmental impact by reducing the demand for mining of new materials. Recycled building materials are almost always cheaper than new materials.
The following directory lists companies related to building salvage, building materials recycling, as well as architects specializing in unusual building methods utilizing recycled materials.
If you are in a business related to recycled building materials and would like to be featured in this directory, please contact us at sales@bocaraton.com.
If you know of any article or event related to this topic that you would like us to cover, e-mail us at info@bocaraton.com.