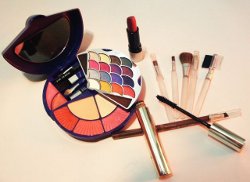 Cosmetics: the environmental and health impacts of these makeups, nail polishes, perfumes, lipsticks, and other poisons are too numerous and varied for any one essay to summarize. In the United States, there is very little government regulation of the ingredients used in these products (many of which are illegal in other countries) or the labeling on them, which would be fine if it weren't for the trust consumers place in them cultivated by government regulation of other products such as food. Many cosmetic products marketed in the United State contain hormone altering chemicals, carcinogens, allergens, and many other toxins. These toxins are absorbed into the skin of the wearer, and causes harm to the environment when washed off. The manufacturers of some cosmetics are not even required to publish a complete ingredients list on their products. In addition, these cosmetics are often tested on animals. These tests involve cruelty such as direct application of products to animals' eyes that many consumers would find unjustifiable.
The most rational solution to these problems is to stop using such products. Completely. They are unnecessary. Granted, women refusing to wear makeup, nail polish, and other such products are rare in western culture, but perhaps that is one aspect of our culture that should change. And what better way to affect that change than to refuse to use these products?
If you are not able to reject the notion that cosmetic products are essential, then there is a guide which rates their toxicity which you may find useful. You can find it at the Skin Deep cosmetics safety database. This resource rates many cosmetics, and you may be able to use it to find cosmetics that are safe.
Also, the directory below lists cosmetic companies that are committed to providing safe and environmentally friendly products.
If you are an environmentally responsible producer of cosmetics and would like to be featured in this directory, please contact us at sales@bocaraton.com.
If you know of any article or event related to this topic that you would like us to cover, e-mail us at info@bocaraton.com.