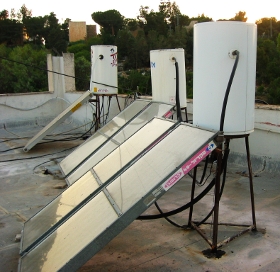 In most households, the appliance that uses the most energy is the water heater consuming about 4,500 watts of power constantly. Recent technological advancements reduce the energy used to provide hot water for showers, dishwashers, and clothes washing machines.
Most water heaters in the United States keep water heated in a large tank, and dispense that water when it is needed. Much of the energy wasted from these conventional water heaters is in the form of "standby loss": heat escaping from the water stored in the tank when hot water is not being used. This energy loss has been mitigated by recent advancements in insulation, but a recent approach has been to eliminate the tank altogether. New "tankless water heaters" have advantages and disadvantages, but usually result in energy savings when used in place of traditional water heaters. They work by supplying a very high amount of energy to water running through them when hot water is needed. They do not use any heat to standby loss. The disadvantage to these systems is high initial installation cost and high power requirements.
Of course, the most environmentally friendly way to heat your water is to use solar energy. Solar energy is incident on your home or business whether you use it or not, and recent advancements in solar thermal collection technology make solar powered water heaters a cost-saving option. There are many different types of solar water heaters, but they all work by collecting solar radiation from a large area over a long period of time, supplying a large amount of energy to a portion of water to heat it.
If you are a producer of environmentally friendly water heating systems and would like to be featured in this directory, please contact us at sales@bocaraton.com.
If you know of any article or event related to this topic that you would like us to cover, e-mail us at info@bocaraton.com.