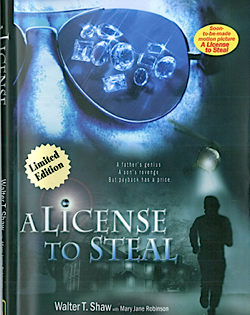 A LICENSE TO STEAL
by Walter T. Shaw
A father's genius; a son's revenge, but payback has its price.
Walter T. Shaw is considered the world's most notorious (former) jewel thief. His long-awaited memoir, A License To Steal, (Omega Publishing, April '08, $24.95, hardcover) chronicles the saga of his father, probably one of the most important inventors of our time, who was ripped off by corporate America and the mafia, and how this drove Walter himself to become one of the country's most famous jewel thieves, having taken an estimated $70 million from the rich and famous from Long Island to Florida. In the forward by Frank Vincent (Phil Leotardo in The Sopranos) writes, "Full of love, fear, violence, hate and the quest for redemption, this book is an unbelievable journey through life."
A License To Steal, Shaw Jr. maintains that it should have been his father who became famous. Although Shaw Sr. died penniless, he invented and patented several telephonic breakthroughs including the speakerphone, conference calling, call-forwarding and even the "Red Phone" used by the Eisenhower White House to contact the Kremlin. However, as a systems engineer for Bell, the most powerful monopoly of that time, he was stopped from marketing his inventions.
Shaw Sr., desperate for money, turned to the mafia and designed the "black box" that allowed Mob bookmakers to make toll-free, untraceable calls. However, it was this device that landed Shaw Sr. in front of a Senate subcommittee and Robert F. Kennedy, for which he was later convicted.
Watching in anger as his father was convicted, Walter T. Shaw, then 12, was comforted by an unlikely figure: New York mob boss Carlo Gambino. He whispered to Walter Jr., "The only difference between us and these politicians, judges and senators, is they have a license to steal and we don't need one."
Walter's revenge on the rich and famous soon began. Here are some insights:
• The FBI blamed Walter's crew for a staggering 3,000 jobs worth more than $70 million since the early 1970s.
• In 1968, was a recognized solider for a National Mafia boss.
• In 1969 joined the "Dinner Time Burglar" jewel thief ring (they robbed when people were home and eating dinner) and in 1974 broke off, forming his own crew
• Among their alleged victims were Liberace, the DuPonts and Firestone families
• Never caught in the act, but was ratted out and convicted on 4 different counts sentenced to 49 years of imprisonment.
• Because of death threats was moved to death row in the cell next to serial killer Ted Bundy.
• Walter spent in excess of 11 years in prison.
• Lost touch with his dad. Walter Jr. eventually reconciled with his father 18 months before the elder Shaw died of cancer in 1996.
• Walter Sr.'s accomplishments were finally recognized by the Florida House of Representatives in 2000.
A License to Steal will soon be made into a motion picture and Walter is in talks with the major Hollywood studios. Walter, a media darling, has appeared on Oprah, Rachael Ray, Montel Williams, and Inside Edition to talk about burglary prevention.
A License To Steal is available on BarnesAndNoble.com and Amazon.com.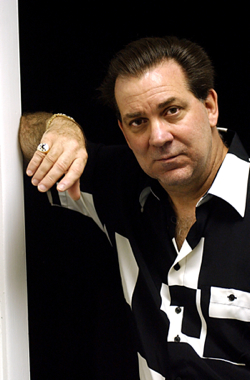 WALTER T. SHAW
2009 EDITORIAL ARCHIVES