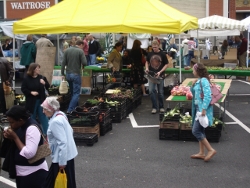 Recently, many people have become aware of the impact their own transportation has on the environment, and have taken steps to reduce that impact. It follows that people would want to reduce the impact the transportation of the goods they use have on the environment as well. Unfortunately, much of the food we get from supermarkets and restaurants is made of ingredients sourced from different regions, and often other countries. It follows that the same harm our own transportation causes to the environment due to vehicle production and maintenance, fuel use, and road maintenance, is also caused by the transportation of our foods. The only way to reduce this impact is to buy foods made with locally grown ingredients.
Many smaller markets and restaurants have begun to change their sourcing habits. Food distribution companies are beginning to realize that most regions of the United States support farming in some way, and food doesn't need to be imported from far-off lands. This realization, being called the "Local Food Movement" or "Locavore Movement", has gained even more popularity on the individual level. People are realizing that buying food locally saves them money as it saves the environment, and usually means that fresher food is on their tables. A book by a Canadian couple about their decision to only eat food made from ingredients produced less than 100 miles from their residence for one year.
The best place to buy locally-grown food is a farmers' market. These are temporary markets set up periodically (usually weekly) by local farmers who want to sell their goods to people in their own towns. You can also go to some farms to buy food right from the fields. Some restaurants have a local food menu, and supermarkets may have a local food section in the near future. And of course, you can't more local than your own backyard. The directory below lists farmers market schedules, local farms themselves, restaurants and markets that have a local selection, and products you can use to start your own backyard garden.
If you are a farmer, or affiliated with a market or restaurant that has a local selection and would like to be featured in this directory, please contact us at sales@bocaraton.com.
If you know of any article or event related to this topic that you would like us to cover, e-mail us at info@bocaraton.com.