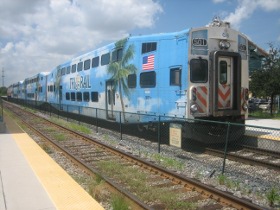 Aside from biking or walking, the most environmentally friendly way to get from where you are to where you want to go is to utilize mass transit. Like most environmentally friendly decisions you make, this one will save you a lot of money over driving as well. Mass transit is safer than automobiles, and those who utilize mass transit sometimes even find that they get to their destination more quickly than they would by driving during rush hour periods.
We will start our discussion with the most profound benefit of mass transit utilization: its frugality. The operation of a personal motor vehicle involves fuel costs and decreases maintenance intervals, while decreasing the vehicle's value with every mile. Transit fares are usually subsidized by local or state governments (meaning you, as a tax payer, pay for its operation whether you use it or not), and even if they are not, you share the cost of the mass transit vehicle's operation with many other riders.
But the word "frugal", when used to describe mass transit, means more than just saving you money. Mass transit also saves resources, land, and clean air, hence its inclusion in our "Green Directory". A recent study conducted by the Brookings Institution and the American Enterprise Institute found that public transportation uses on average half the fuel per person as automobile transportation. The infrastructure required for most public transit is more compact than that required for automobile transportation, saving land for other uses or preservation.
Using mass transit is also much safer than driving a car. In the United States, automobile accidents are the number one cause of accidental death, killing more than 40,000 people per year. While mass transit accidents are often well publicized, they are exceedingly rare. Public transportation vehicles are much larger than private vehicles, and are operated by trained professionals. The United States' National Safety Council estimates that injury is 170 times less likely while riding a bus than it is while riding in a car.
Many municipalities have implemented extensive mass transit systems in response to heavy traffic, and some people have found that mass transit can get them where they want to go more quickly than driving can. The traffic that inspired the construction of the rails and bus systems and can make driving times completely unpredictable often makes mass transit the faster choice, especially during rush hour. Busses and shuttles that run from train stations sometimes bring you right to the doorstep of your destination, and most mass transit vehicles allow bicycles onboard.
The directory below lists websites providing information on mass transit, including scheduling and routes.
If you know of any article or event related to this topic that you would like us to cover, e-mail us at info@bocaraton.com.