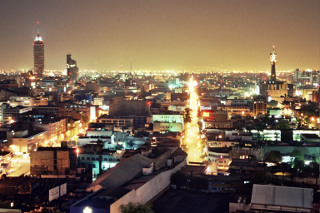 Light pollution is a major problem in all urban areas, on par with air and water pollution. It causes health problems for humans, interferes with animal behaviors, and its creation wastes energy.
Light pollution is caused by artificial light sources being used unnecessarily or wastefully during nighttime, destroying natural darkness. Light pollution refers both to the effects of lighting on the sources immediate surroundings, as well as sky glow caused by light's interaction with the atmosphere. Any artificial light that reaches a target other than its intended target is light pollution.
All animals, including humans, evolved in a habitat that provides them with regular intervals of darkness and light. Many animals are nocturnal, finding food during dark hours when predators are less likely to find them. Movement patterns of many animals are affected by unnatural lighting. The most well-known example is sea turtle hatchlings, which naturally move away from dark silhouettes in order to reach the ocean after they hatch, a behavior completely disrupted by artificial lights. Plants are also affected by light pollution. Many flowering plants only bloom during periods of almost total darkness, and light pollution therefore destroys the population of these plants by preventing them from breeding.
The effects of light pollution on human health are well-documented and severe. Medical journals explain that constant exposure to light causes anxiety, headaches, fatigue, and stress. Production of the hormone melatonin in humans drastically decreases when people are constantly exposed to light. Lower levels of this hormone have been linked to increased risks of certain cancers.
Light pollution destroys the beauty of the night sky in even the most slightly urbanized areas. It is sometimes surprising for someone who lives under a veil of light pollution to see what the sky would look like if people were more responsible with their lights. Under normal conditions, thousands of stars, some nebulae, and even another galaxy or two are visible with the naked eye. Light pollution destroys these views.
In addition to these problems, light pollution (which, as a reminder, is defined as any artificial light that reaches a target other than its intended target) is responsible for an increase in energy use, and all the environmental problems associated with energy production.
Light pollution is easily preventable on a personal level simply by turning off lights when you are not using them, especially outdoor lights. Many people believe that leaving lights on in their house when they are away or when they sleep deters break-ins. This is probably false, since criminals know people do this, and lighting makes it easier for them to see that rooms aren't occupied. Even if criminals were deterred by lights, a more effective and less wasteful system would leave lights off until a motion detection system detects movement outside.
On a larger level, light pollution can be prevented by better focusing of outdoor lighting. Most streetlights emit light in all directions. Better streetlight design will cause the light to reflected down onto the road where it belongs. Awareness and public backlash against excessive lighting could cause stores and advertisers to lower their lighting at nighttime.
If you know of any article or event related to this topic that you would like us to cover, e-mail us at info@bocaraton.com.