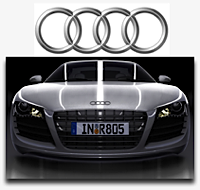 Wednesday, August 11, 2010
- Meet top bider Tom Gonzales the proud new owner of the 2011 Audi R8 V10 Spyder Cabriolet Convertible. Congratulations Tom! This car brought $230,000 dollars for the Boys & Girls Clubs of Broward County. During a special presentation, Jamie McDonnell, Chairman of the Boca Raton Concours d' Elegance, presented Tom Gonzales the keys to the first in the United States of the all new Audi model, R8 V10. In addition, Tom received a special certificate of authenticity verifying the 2011 Audi R8 V10 Spyder Cabriolet Convertible is the first in the country. Founder of the Boca Raton Concours d' Elegance, Rick Case, arranged with Audi to auction off the first Spyder in the country to benefit the Boys & Girls of Broward County; the car was delivered through the Rick Case Audi dealership.
---
About the car:
First in the USA, The Audi R8 Spyder Cabriolet Convertible sports a 5.2L, 525 horsepower, V10 engine, which pushes the Sypder to 60MPH in 4 seconds and has a top speed of 196MPH. With superior technologies such as Spyder's all-wheel drive and a lightweight aluminum body, the Audi R8 V10 offers a breathtaking styling. The convertible features a microphone mounted in the driver's seatbelt, allowing the motorist to carry on a Bluetooth linked phone conversation. Quality of fit and finish is extraordinary and the controls are clear and logical. The interior of the new Audi is only matched by its sleek exterior and extreme attention to detail in design and speed. Audi made few performance compromises for the convertible version, limiting weight gain to less than 15 pounds, despite structurally enforcing the original R8's aluminum and carbon space frame.