Video Sponsored by:



Miners Plan 17,000 Acres of Quarry Operations
By Paul Brinkmann

South Florida's rock mining industry is lining up approvals for the largest expansion in its history.

Ten quarry companies have applied for federal permits or local zoning approval to excavate up to 17,000 more acres in Miami-Dade and Palm Beach counties. A federal lawsuit launched by environmentalists has disrupted some quarry operations in Miami-Dade County, so the expansions could turn into a legal minefield.

The overall outcome could be a major factor for future business in South Florida since limestone is a key ingredient of the concrete used in building materials and highways. The Miami-Dade rock is especially prized for its quality.

"Companies are trying to have multiple options available in the region, and they want the supply available in South Florida because transporting rock is so expensive," said Ananth Prasad, who has overseen purchasing of rock as a chief engineer with the Florida.

Department of Transportation. "The state is not pushing for growth necessarily, and I do believe rock mining has to be balanced with all the local issues, water issues, everything."

South Florida is dotted with lakes that are the result of quarries, most prominently along the turnpike extension. Their bottoms can scrape close to the Biscayne Aquifer, the main source of the region's water supply, but studies of quarries' impact on wells has been limited.

The industry is at a crossroads now because Palm Beach County just approved zoning changes to allow mining on 11,000 new acres of the Everglades Agricultural Area, while the U.S. Army Corps of Engineers plans to release a new environmental study of Miami-Dade's Lake Belt mining zone in July.

The corps is considering approval of expansion permits for 6,800 acres in Miami-Dade. To make matters more complicated, a federal appeals court is set to rule any day on a court order that shut down mining in a key part of the crucial Lake Belt last summer. The current expansion plans began during the construction boom that ended in 2006, Prasad said. "In the growth boom, demand was exceeding supply. There were projects affected because the supplies were getting more expensive. Now we've had a slowdown, and the balance has evened out. The supply is there right now."

Miami-Dade's wellfield area mines have supplied most of the rock for the region's growth, and almost half of the DOT's crushed limestone and concrete for roads. But development pressure and environmental challenges have squeezed the mining interests in the area. The result is a surge of interest in Palm Beach County, where the rock is not as high quality, but is available because of more open space.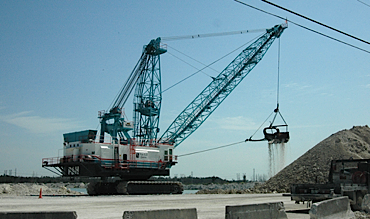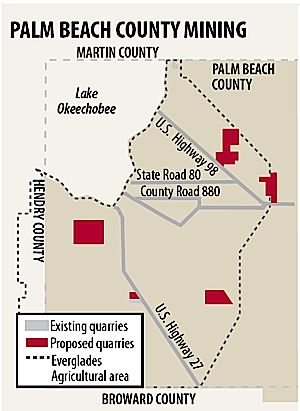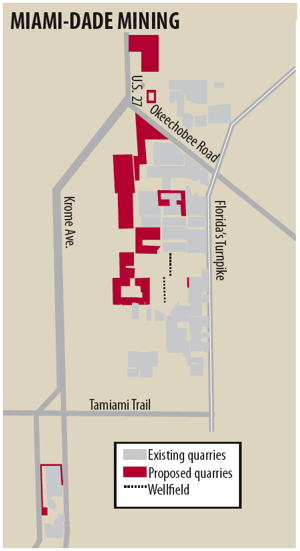 DayJet Throttles Back
DayJet said it is scaling back its expansion plan for 2008 and cutting staff because of a lack of capital.
The Boca Raton-based private jet company said its projections had indicated a need for 30 to 50 "line" aircraft serving 20 to 30 fully developed DayPort markets "to reach critical scale," which required a $40 million infusion of operating capital in the first quarter.
"Without the growth capital required to open new markets, the company must scale back to a size that is consistent with the demand of our existing customers and service region," CEO Ed Iacobucci said in a letter. "DayJet's business model is based on operating at a critical mass, requiring investment ahead of growth. We hired and trained a number of employees in anticipation of future growth and always planned for additional capital investment at this stage."
DayJet said it is laying off 100 people across all areas of its business, bringing its total number of employees to 160.
In February, DayJet expanded its DayPort service by adding Opa-locka Executive Airport in Miami-Dade County. Members can currently fly per-seat, on-demand to 45 community airports in Alabama, Florida, Georgia, Mississippi and South Carolina when they begin or end their trip at Opa-locka or one of nine other DayPort airports in Florida and Georgia. DayJet said the cutbacks will not affect its existing service.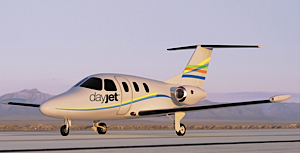 Climate Bill Could Raise Natural Gas, Power Costs
By Kent Hoover

High gasoline prices may be today's energy crisis, but electricity rates and natural gas prices could become even bigger headaches for businesses in the future.

Pending legislation to cap greenhouse gas emissions would increase the cost of electricity and natural gas, according to a new analysis by the Energy Information Administration. The federal agency studied the potential impact of the Lieberman-Warner Climate Security Act, which would cap emissions of carbon dioxide and other gases tied to global warming. The Senate is expected to consider the legislation in June. EIA projects the legislation would reduce carbon emissions in 2020 by up to 36 percent below what they would be under current regulations.

More than 80 percent of the emissions reductions would come from the electric power sector, EIA projected. This would be achieved through expanded use of nuclear power and renewable energy sources, as well as deploying carbon capture and sequestration (CCS) technology at fossil-fuel power plants.

If cleaner sources of power and CCS technology are not developed quickly enough, electric utilities would increase their use of natural gas as a substitute for coal, according to the study. This would result in "markedly higher" natural gas prices, EIA predicted. That would impact Florida Power & Light Co., which relies on gas to generate 50 percent of its energy. The company gets 20 percent of its power from nuclear power, and recently announced plans to add two reactors to its Turkey Point plant near Homestead. FP&L only gets 5 percent of its power from coal; the remainder is from oil or purchased from other utilities.

FP&L has filed to increase the average consumer bill by about $2.50 next year to help pay for the two reactors, according to news accounts of regulatory filings.

Nationwide, the proposed regulatory changes would increase the price by 5 percent to 27 percent by 2020, compared with what would happen under current regulations, according to EIA. By 2030, the price would be 11 percent to 64 higher, depending on variables such as how quickly new energy technologies are deployed.

These higher energy costs would hurt the economy, with the impact growing worse over time as the emissions caps become more stringent, according to the study. Manufacturing would be the hardest-hit sector, EIA predicted.

The Lieberman-Warner bill "runs the risk of doing more economic harm than environmental good," said John Engler, president and CEO of the National Association of Manufacturers.

NAM is particularly concerned about the legislation's potential to nearly double natural gas prices.

"Manufacturers are the most natural gas-intensive sector, and affordable natural gas is essential to the long-term competitiveness of manufacturing and the U.S. economy," Engler said. "We cannot continue to propose increases in the price of natural gas while failing to expand domestic gas exploration and increase investment in nuclear energy technology."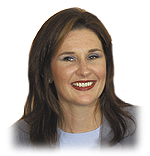 Darcie Lunsford's Hair provided by:
Wild Hare Salon and Spa | 2120 St. Andrews | Boca Raton

SFBJ - ARCHIVES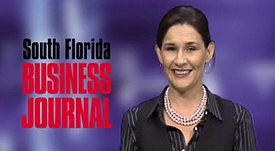 South Florida Business Journal
Darcie Lunsford Archives