Video Sponsored by:



Foxconn To Add 200 South Florida Jobs
By Bill Frogameni

Multinational computer and electronic parts manufacturer Foxconn International Holdings is planning a 200-employee facility in western Broward County.

Site selection is still under way to lease 40,000 square feet to house the new Foxconn staffers, who will focus on designing next-generation cellular technologies. China-based Foxconn may not be a household name, but it has $10.73 billion in revenue and has done work for companies such as Apple, Nokia and Sony.

The goal is to have the facility up and designing by early June, according to Julio Abdala, Foxconn's VP of engineers. A majority of the new hires were recently laid off from Motorola's Plantation hub, he said.

In fact, Foxconn's South Florida expansion, Abdala said, is a direct result its ability to hire those high-skilled workers. "Foxconn knew there were [Motorola] engineers coming available, and they made a decision to set up a center here," said Abdala, a former Motorola manager.

Motorola's Plantation facility, which employs about 2,500, laid off more than 300 in early spring, according to Motorola spokeswoman Lea Faso. "They were mostly hardware and software engineers and they were in our WiMAX organization," she said. (WiMAX is an ultra-fast method of wireless data transfer.)

The move came as Motorola announced a plan to split into two publicly traded, stand-alone entities: one focused on mobile handsets and related products, and the other on voice and data communications products and services. Motorola's Plantation operation serves as the company's Latin American headquarters, and holds engineering and sales sections for its handset business.

Abdala said he would oversee Foxconn's new office once a lease is finalized. Foxconn is focusing its space search within close proximity to Motorola's Plantation facility, at 8000 W. Sunrise Blvd.

The former Kemper Insurance Co. building, at 1601 S.W. 80th Terrace, in Plantation, is among the buildings under consideration, but no deal has been reached, according to real estate sources familiar with the transaction. The 120,000-square foot building is occupied by Broadspire Services, which only needs about half the building.

SUBHEAD: 100 Employees To Start


Wherever it winds up, the Foxconn facility is expected to open with about 100 workers, and should be fully staffed by the end of the year, Abdala said. Fifty percent to 70 percent of Foxconn's initial new hires will be ex-Motorola, tech-oriented workers earning between $50,000 and $110,0000 a year, Abdala said.

But not all of them are coming from Motorola's Broward workforce. Abdala said he didn't know exactly how many former Motorola employees from Plantation would be on Foxconn's payroll, since some new hires are coming from Motorola jobs outside South Florida.

Abdala said Foxconn wants to locate close to Motorola's Plantation offices "because that's the least disruptive to the greatest number of people."

Faso and others said Motorola held a job fair in mid-April for outgoing employees, and that some top technology companies – including Foxconn, Microsoft and Qualcomm – attended. Faso said numerous employees were able to gain employment with other companies, and many of them will remain in South Florida. She did not specifically know how many outgoing Motorola employees were hired elsewhere.

FAU Report Outlines A South Florida Paradise In Peril
By Brian Bandell

South Florida is losing many of the qualities that made it an attractive place to live, as the region remains behind the nation in education and wages, according to a report by Florida Atlantic University researchers.

FAU's Center for Urban and Environmental Solutions (CUES) released its biannual regional report on May 29. Titled "Preserving Paradise – SoFlo's Call to Action," it covers the demographic and economic trends affecting the 6.2 million people living along the state's east coast, from the Keys through Vero Beach.

The report found that the lagging population growth in the past year, including losing a net 90,000 domestic residents from 2000 through 2007, coincided with worse congestion, a soaring cost of living, subpar wage growth and a spotty record of educational achievement. South Florida also faces many environmental and health care concerns, it noted.

The report called for more regional collaboration that would begin planning for the next half-century. FAU wants governments and businesses to participate in its Southeast Florida 2060 visioning process.

South Florida gained only 61,571 people in 2007. That 1 percent growth rate pales in comparison to the rapid population growth of the past few decades. Broward County lost residents, and Palm Beach County gained only 99. State officials project South Florida's population will reach nearly 8.3 million by 2030 – a reduction of 150,000 from their previous estimate.

As the region grows, it is quickly becoming more diverse. Locals are leaving, with more than 230,000 bolting from Miami-Dade County between 2000 and 2007. Only Martin, St. Lucie and Indian River counties benefited from domestic migration.

Meanwhile, enrollment in South Florida public schools fell from 881,000 in 2004 to 853,000 in 2007.

The population grew due to international migration, which accounted for nearly three-fourths of the growth over the past year. Hispanics comprised 35 percent of the regional population in 2006, and should reach 43 percent by 2030. Florida's economy has relied on population growth and tourism, but that growth is lagging as the cost of living has jumped. Even as the average wage reached $40,000 in 2006 in the largest three counties – Miami-Dade, Broward and Palm Beach – that hasn't kept pace with those rising costs.

"South Florida is dominated by low-wage, service-sector jobs," the report stated. "The highest-paying sectors – information and finance – make up a small part of the regional economy, although they are growing." Business Development Board of Palm Beach County President Kelly Smallridge said most of the companies attracted to the state by incentive programs are in the high-wage, knowledge-based economy.

The report noted the large gap between average wages and the cost of housing in South Florida. A family would need an income of more than $90,000 in the largest three counties to afford a single-family home. Even the recent decline in housing prices has not offered much relief for local companies looking to recruit workers, said Smallridge, who cited the high cost and difficulty in selling existing homes.

"The cost of living pinches everybody, especially the middle- and lower-income brackets," CUES Director James F. Murley said. "Our added piece of the puzzle is being exposed to hurricane events and the wind insurance issue."

Home Sales, Prices Decline In April

Existing single-family home sales were down across South Florida once again in April, the Florida Association of Realtors (FAR) reported, even though a separate report said the region had the nation's second-steepest price decline a month earlier.

South Florida home prices fell nearly 25 percent in March over the previous 12 months, trailing only Las Vegas, where home prices were down 26 percent, the Standard & Poor's Case-Shiller Index said.

On a month-to-month basis, South Florida's drop exceeded the 19 other metropolitan areas measured by the index, with home prices dropping 4.5 percent between February and March. In Las Vegas, prices dropped 4.4 percent during that same period.

"There are very few silver linings that one can see in the data. Most of the nation appears to remain on a downward path," said David Blitzer, chairman of S&P's index committee, in a news release.

April sales in Florida, as reported by FAR, were basically flat, at 11,200 homes, down slightly from 11,358 a year earlier. The median sales price declined 17 percent, to $198,900 from $239,000.

Statewide Sales Were Up 20 Percent From This March
The figures for South Florida:
Miami: Sales were down 47 percent, to 281 homes, with the median sales prices down 24 percent, to $291,000
Fort Lauderdale: Sales were down 11 percent, to 518 homes, with the median sales price down 18 percent, to $298,100
.
West Palm Beach-Boca Raton: Sales were flat at 662 homes – only three less than last year – and the median sales price was down 17 percent, to $314,000
One of the strongest rebounds in sales was in the Fort Myers area, which is often portrayed in the national press as an epicenter of overbuilding. Sales were up 41 percent, to 809 homes, but the median sales price fell 29 percent, to $200,300.

Just north of South Florida, sales were up 34 percent in the Fort Pierce-Port St. Lucie area, with sales of 388 homes, but the median sales price was down 34 percent, to $159,200. April condo sales were down everywhere in South Florida except West Palm Beach-Boca Raton, where sales grew 3 percent, to 664 units, as the median sales price fell 28 percent, to $156,400.

In Miami, condo sales fell 56 percent, to 318 units, but the median sales price increased 3 percent, to $275,000. In Fort Lauderdale, sales were down 13 percent, to 594 units, and the median sales price fell 24 percent, to $150,000.

In the Fort Myers area, condo sales grew 57 percent, to 351 units, but the median price was down 20 percent, to $195,500. Sales grew 22 percent in the Fort Pierce-Port St. Lucie area, to 101 units, as the median sales price fell 7 percent, to $151,700.

Statewide, 3,900 condos sold in April, down 16 percent from the 4,633 sold in April 2007. Sales were up 22 percent from March, when 3,207 sold.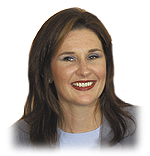 Darcie Lunsford's Hair provided by:
Wild Hare Salon and Spa | 2120 St. Andrews | Boca Raton

SFBJ - ARCHIVES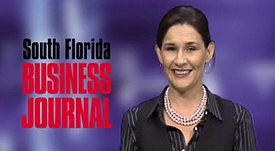 South Florida Business Journal
Darcie Lunsford Archives