Related Content
---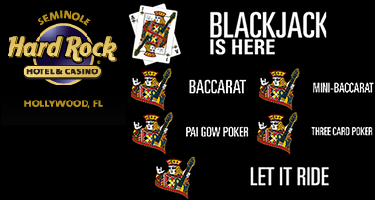 TABLE GAMES FACT SHEET
Overview: Florida's only real casino offers Blackjack, Baccarat, Mini-Baccarat, Pai Gow Poker, Let it Ride, and Three Card Poker on its 145,000 square-foot-floor on June 22, 2008.
Table Games Blackjack:
Blackjack is the primary game being offered on 55 Tables.
Seven player spots per table except in the more intimate playing area where there are six spots.
Smoke exposure is minimized with air shield located on tables between the dealer and player.
Features include 15-tube chip trays and foot rails. Most casinos have 12-tube trays and 15-tube chip trays provide a more comfortable experience for dealers as they're closer to the game, cards and chips. There are foot rails for the dealers and players to rest their feet while playing.
Oak wood drink holders are built into the tables with 14 per table.
A utility shoe draw is underneath tables for storing miscellaneous items.
Playing tables are American Disability Association (ADA) approved.
FX brand table cloths are among the finest used in gaming.
Baccarat Room:
Two Baccarat tables with 12 seats per table
Four Blackjack tables with six seats per table
Tables exclude the numbers 4, 13 and 14 on the cloths - felt
Mini-Baccarat: Two tables with nine spots per table Three Card Poker: Six tables Let it Ride: Three tables Trellises:
Six Olive Wood pit canopy trellises will radiate out from the Center Bar
They stand 12' high and range in length from 45'-60' housing the various table games will be placed underneath
Contain decorative metal inlays, color kinetic lights, integrated cameras, and highly-advanced surveillance systems for security purposes
Made from environmentally-friendly products with Leadership in Energy and Environmental Design (LEED) Green Building Rating System certified materials and manufacturing processes to improve indoor air quality
All wood products, adhesives and finishing materials used in the manufacturing process are free from added urea formaldehydes
20% of all the wood products used are recycled
The remaining wood products used in the trellises are Forest Stewardship Council (FSC) certified and part of the well-managed forest project— when one tree is cut down, a new one is planted
Low-energy efficient lighting
LEED encourages and accelerates global adoption of sustainable green building and development practices through the creation and implementation of universally understood and accepted tools and performance criteria
Return To 'Seminole Hard Rock Hotel & Casino' Page
---
Related Content