Video Sponsored by: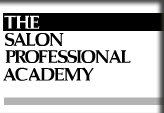 thesalonprofessionalacademy.com




South Florida travel sector
grapples with recession
SouthFlorida.BizJournals.com


By Bill Frogameni

Holiday travel appeared slow at local airports, but brighter predictions for the rest of the tourist season keep industry officials hopeful. Though final figures aren't available yet, Palm Beach International Airport reported there were 8.4 percent fewer parking transactions in December compared to the prior year.

"I expect passenger traffic will fall similarly," said Mike Simmons, deputy director of finance at PBIA.

The loss of passengers is largely tied to the loss of flights, he added, noting that total passenger numbers fell by about 12 percent in November compared to November 2007, as airlines cut back about 13 percent on flights. It's similar at Fort Lauderdale-Hollywood International Airport, where spokesman Steve Belleme estimated that the airport's passenger count declined about 11 percent, year-over-year. He said those drops are tied to carrier cuts.

"The bottom line is you can only have as many travelers as you have seats. The silver lining is the discount carriers are picking up as the majors are cutting back," Belleme noted, pointing to big increases in 2008 from market leaders Spirit Airlines, JetBlue Airways and Southwest Airlines. Belleme predicted the Broward County airport will see 13.3 percent fewer passengers from the beginning of January though the end of May compared to the same time last year.

Miami International Airport isn't making long-term projections, but spokesman Marc Henderson predicted passengers will essentially be flat – up just 0.01 percent for Dec. 21 through Jan. 7.

MIA's parking dropped 14.8 percent in December. Henderson said that may be due to factors – such as more people getting dropped off instead of driving themselves – that wouldn't necessarily correlate to a drop in passengers. The airport remains strong in international traffic, which is profitable for airlines, he added, and MIA is one of the few that has had a net gain of flights.

From Nov. 23 to Nov. 30 – Thanksgiving week – passenger numbers increased 3.2 percent. The prediction had been a drop of 1 percent, Henderson noted. "We probably are doing better than a lot [of other airports] and, yes, there is strength in the Latin American market and other places," he said. South Florida's airports continue to draw strength from the cruise ship industry. From January through the end of November 2008, the Port of Miami reported a 10.5 percent jump in cruise passengers compared to the same period in 2007. In November alone, the port reported a 16.4 percent increase in passengers compared to November 2007. For the current winter season, port officials are projecting a 4.7 percent increase in cruise ships making calls at the port.

At Port Everglades, total passengers declined by 5.3 percent when comparing January through September 2008 to the same period in 2007, but that was mostly due to a loss of daily passengers from SeaEscape gambling cruises, port spokeswoman Ellen Kennedy said. (SeaEscape ceased operations at the port last summer after suffering from onshore gambling competition.)

Multiday cruise passengers, who comprise the port's greatest share of passengers, declined 2 percent. Kennedy said the port expects total passengers would be down 4.7 percent for the 2009 fiscal year, which ends in September, but passenger traffic should grow in 2010 and 2011, when large cruisers will arrive and bolster capacity.

The Port of Palm Beach lost 19 percent of its mostly day-cruise passengers. This was due to the economy and financial issues with the port's largest cruise operator, the Palm Beach Princess, which caused it to slash advertising budgets, port spokeswoman Jarra Kaczwara said. But, since the bankrupt company was been sold to a new owner, Kaczwara expected the port's total passengers would increase by 6 percent to 10 percent in 2009. MORE SouthFlorida.BizJournals.com

bfrogameni@bizjournals.com | (954) 949-7511




Conversions lead the pack of foreclosures among condos and townhomes in 2008
SouthFlorida.BizJournals.com


By Oscar Pedro Musibay

Conversions dominated South Florida foreclosure activity in 2008 among condo and townhomes, with a West Palm Beach project's $30 million in bad loans leading the way.

Condo conversion Ponte Verde at Palm Beach Lakes had 162 units go into foreclosure last year, which ranked it as top for foreclosures, according to Bal Harbour-based Condo Vultures LLC, whose data tracks initial foreclosure filings in 2008.

Miguel Poyastro-led Grec Conversions of Miami converted the 465-unit Ponte Verde. He could not be reached for comment Although Miami-Dade County was the focus of development in the tri-county area during the real estate boom, Broward and Palm Beach counties held the top five projects for foreclosures, with combined bad debt of $134 million, according to Condo Vultures research.

Condo Vultures CEO Peter Zalewski said Broward and Palm Beach's ascendancy means Miami-Dade got through its defaults early. Broward and Palm Beach also had a lot more condo conversions, which had lower deposits and lots of speculation, he said.

Robert Given, CB Richard Ellis executive VP in the South Florida Multi-Housing Group, said developers went after condo conversions in Miami-Dade first because the county had properties with the greatest sale upside. They moved northward to Broward and Palm Beach, then to Florida's west coast and Orlando, all of which were saturated with condo conversions.

The other South Florida projects with the greatest foreclosures are Edgewater in Coral Springs, with 125 units in foreclosure; Palm-Aire Country Club in Pompano Beach, with 123 units; Tides on Hollywood Beach in Hollywood, with 119 units; and Palm Hill in West Palm Beach, with 105 units. Shoma Homes' Townhomes at Keys Cove, which had 97 units owing more than $15 million in mortgages, was the highest ranked Miami-Dade project.

The Condo Vultures rankings were based on total condo units and townhomes in foreclosure, not the total amount owed. The project with the most owed was the Tides on Hollywood Beach, with $41 million in bad loans, data showed. MORE SouthFlorida.BizJournals.com

omusibay@bizjournals.com | (954) 949-7567




First Southern Bank to get $10.9M in TARP funds
SouthFlorida.BizJournals.com


By Brian Bandell

Boca Raton-based First Southern Bank became first South Florida-based bank to receive preliminary approval to raise funds under the U.S. Department of the Treasury's Capital Purchase Program.

The private community bank, which focuses on commercial real estate loans, said Jan. 6 that it could sell $10.9 million in preferred stock to the government. If the bank participates, it would have five years to repay that amount, plus 5 percent annual interest. After five years, the interest rate would be 9 percent.

A $10.9 million infusion from the government program would boost First Southern's $42.9 million in equity capital as of Sept. 30 by 25.4 percent. First Southern Bank President and CEO Franklin G. Burnside said bank officials would meet and discuss how it could boost lending should it decide to accept the money. That would probably including hiring more lending officers and making more commercial real estate loans, he said.

"The market has already come down to the point that we might consider that it's probably a pretty good time to lend," Burnside said. "I'd imagine that it's safer to lend now than it was three years ago." Founded in 1987, First Southern has five offices. Its financial position appeared strong in the third quarter.

According to Federal Deposit Insurance Corp. data, First Southern had net income of $855,000 in the first nine months of 2008, with $563,000 of that coming in the third quarter. Only 0.86 percent of its loans were noncurrent – a far better ratio than at most South Florida banks. MORE SouthFlorida.BizJournals.com First reported on SouthFloridaBusinessJournal.com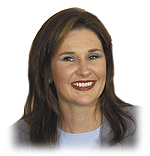 Darcie Lunsford's Hair Services provided by:
Wild Hare Salon and Spa | 2120 St. Andrews | Boca Raton

South Florida Business Journal
ARCHIVES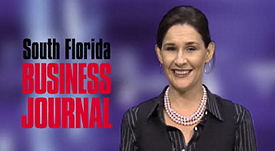 South Florida Business Journal Archives
SouthFlorida.BizJournals.com.