Grace Cafe and Galleries
75 N. Federal Highway
Dania Beach, FL 33004 | 954.816.3324
Website: GraceCafeAndGalleries.com
Email: Info@GraceCafeAndGalleries.com
WELCOME TO
GRACE CAFE & GALLERIES
Fine Art Exhibitions | Antique Sales | Weekly Classes
Tango & Tap Dance | Hip Hop | Jazz & Stretch
Live Music & Songwriting | Gourmet Cafe
Custom Framing
HAPPENINGS @ GRACE CAFE!
Featuring Purvis Young Art work and Some of South Florida's Best New Fine Artists in Painting, Sculpture, Furniture, Dance and Live Music
DANIA BEACH, FL.—Art work from Lena Luckey, Christine Foetsch, Gertraud Schoen (all from Germany); Louis Rosemond (Haiti); Folk Artists, Mario Salvi and Janie Casoria (both of South Florida) and Julie Upton (recently returning from Los Angeles area) provide a variety of artistic styles and purchase options in painting, sculpture and furniture. Purvis Young, Miami's Iconic Artist, who passed away in 2010, helped establish the arts in Dania Beach and the annual festival in 2006 when he visited Grace Café and Galleries. A variety of Young pieces are also available for purchase.
Luckey's works are an 'artful' blend of modern, Asian imagery and painted faces of 'romantic heroines' typical of Bronte novels. Foetsch's works are vibrant minimalist pieces priced for first time art purchaser or for commercial use. Schoen's new series of large abstracts are classic examples of European Expressionism which continue to sell very well. Rosemond peaceful animal scenes in brilliant colors continue to fascinate art lovers. Newcomers to Folk Art, Salvi's whimsical and bright landscapes and urban scenes tell intricate stories and Casoria's furniture and sculpture are wildly organic, using mixed media elements to create doors, chests, tables and chairs - true conversation pieces. Finally, Upton's images of flowers and shells are very cheerful and compelling.
"Tango is Art" milonga workshop will occur the preceding Thursday, June 30. Tango, Tap and other specialty dance workshops and classes are available on weekly and quarterly basis at Grace Café and Galleries.
Gourmet pizza, delectable southern delights of guava pulled pork and vegetarian options are available all weekend. For dance workshop reservations, questions about artists, please call Clare Vickery 954-816-3324.

ABOUT GRACE CAFE & GALLERIES
Grace Cafe and Galleries is a one of a kind experience featuring elegant and unique art from Local Florida Artist as well as renowned artist while at the a same time offering Healthy Food, allowing you to fill both your visual senses as well as your stomach at the same time. Come in and visit this exquisite cafe and art gallery to get your craving fulfilled.
Clare Vickery, the owner, has created an inviting environment that features a café surrounded with art. Grace Café & Gallery is a wonderful place to browse and buy art, sample café foods and basically just check out this delightful space. Grace Café & Gallery has 7,000 square feet on two floors. The shop opens into whole rooms of antiques, sculptures, and paintings. There are glass cases loaded with vintage jewelry, also offering year round art and dance classes in the upstairs studio. The gallery often features painters that what you can watch paint while you eat. The renowned artist, Purvis Young, has an extensive collection for sale at Grace Café & Gallery. So do Jean-Louis and other Haitian artists such as Louis Rosemond. Reservations are required for Friday's exhibition, the opening runs from 6:30 p.m. – 10 p.m. On Saturday, the gallery welcomes anyone who cares to drop by, offering free barbecue, art classes, music, dancing and games for all ages from 10 a.m. – 6 p.m. For more information or reservations, call 954.816.3324.
Come in and visit this exquisite
Cafe & Art Gallery to get your craving fulfilled!

ART GALLERY PROFILE
Dining facilities: Charming cafe in a gallery featuring local artists
Art Gallery and Cafe Menu
Service: Order at the counter
Atmosphere: Casual
Dress Code: Casual
Cuisine: Gourmet sandwiches, salads and desserts
Brunch: No
Delivery: Yes, Free on orders over $25 to Dania Beach and Hollywood east of US 1
Take-Out: Yes
Children's Menu: Yes
Outdoor Seating: Yes
Boat Accessible: No
Pet Friendly: Yes - Upon Request
Location: Dania Beach
Price: $10 and under
Website: GraceCafeAndGalleries.com
Email: Info@GraceCafeAndGalleries.com
Phone: 954.816.3324
Hours of Operation: 10 am - 4 pm Monday - Friday
Accepts Reservations: No
Offers: Art Viewings, Breakfast and Lunch
Parking: Self Parking
Catering: No
Contact: Clare Vickery
Map: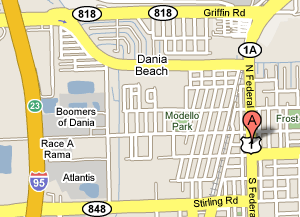 ---
Art Gallery Photos
---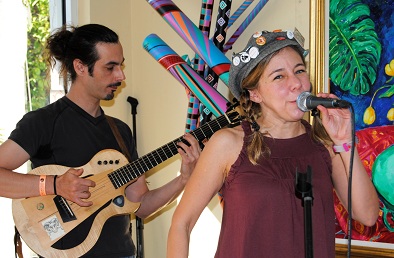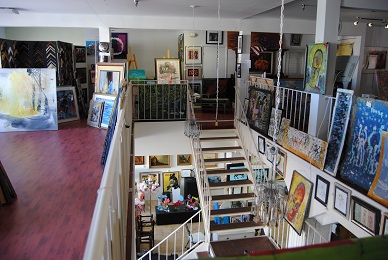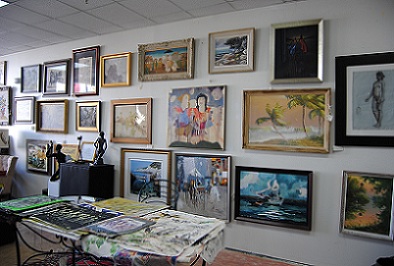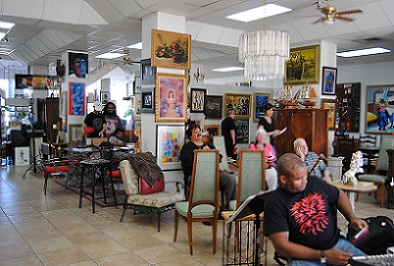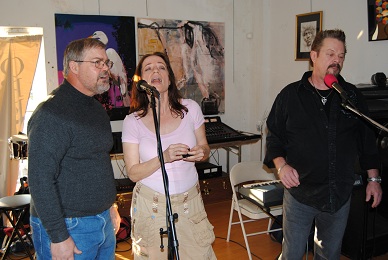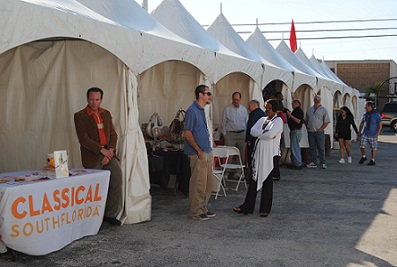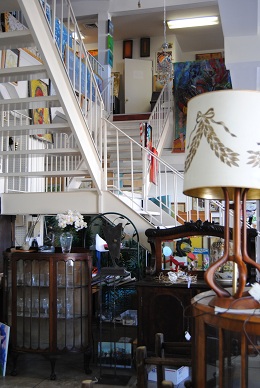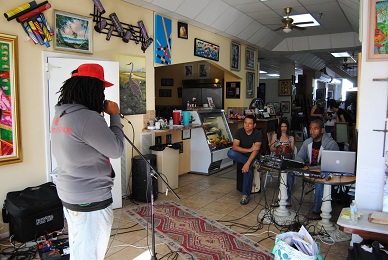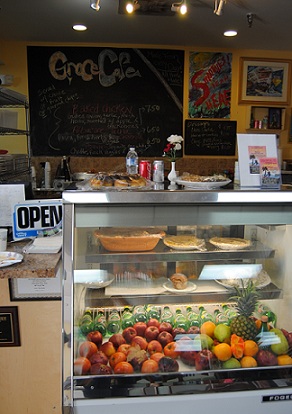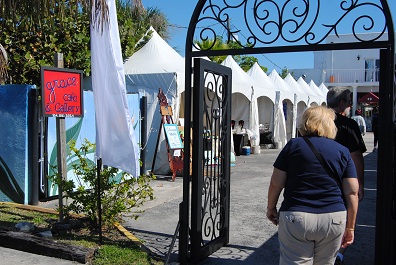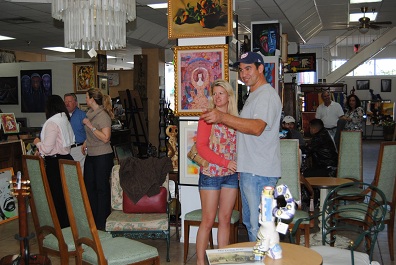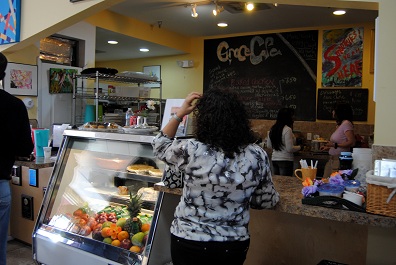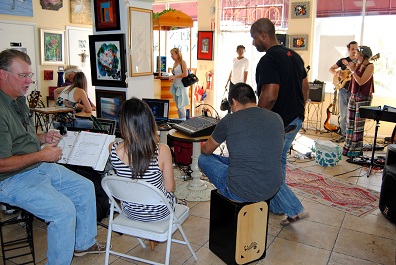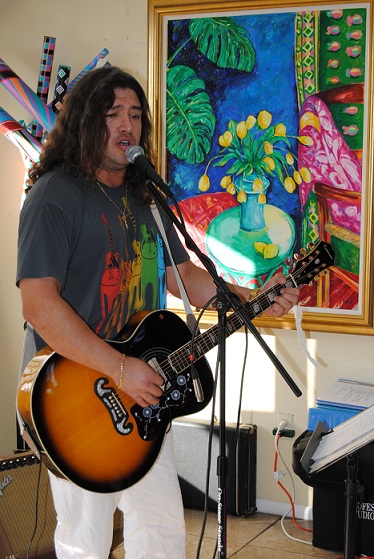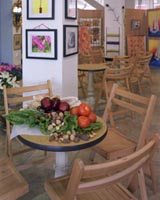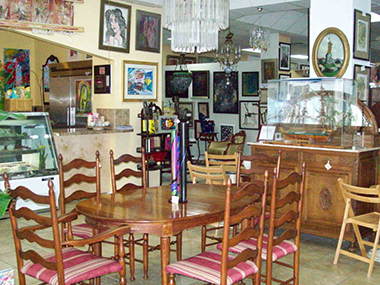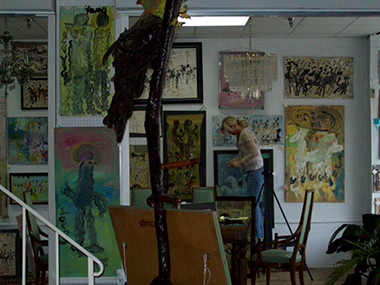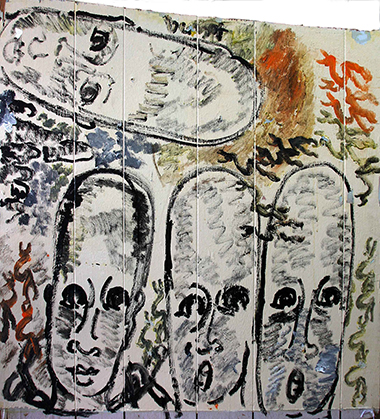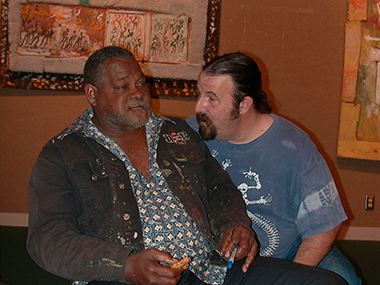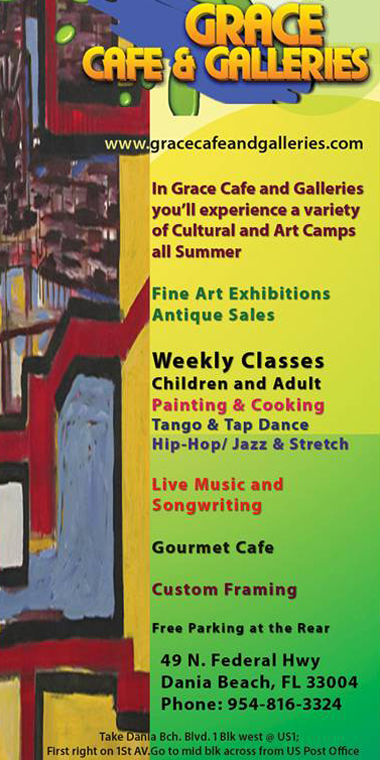 Dining Deal: Grace Cafe & Galleries in Dania Beach
Sun-Sentinel Newspaper


At Grace Café & Galleries you can have a great time perusing the paintings and sculptures while waiting for your sandwiches.
The Manhattan Exhibit ($10.75) is roasted chunks of free-range chicken accented with candied walnuts, dried cranberries, Granny Smith apples and Swiss cheese, served on a house-made light and fluffy cheese roll. We choose the house cole slaw comprised of red and green cabbage, shredded carrots, chopped walnuts, celery and apples. The creamy yet crispy slaw beautifully echoes the flavors of the sandwich.
The True American Art! ($11) is a flavorful blend of thin-sliced tender roast beef, tangy horseradish hummus, aged cheddar cheese, slices of Roma tomatoes and fresh arugula. We pair this with the pasta salad of tri-colored rotini, bits of red onion, celery and parsley.
Though full from the generous sandwiches, we manage to finish our mango cheesecake ($5.50). The cheesecake is made with fresh mangoes in a graham cracker crust.
In addition to the gourmet sandwiches and salads, there are more budget-friendly sandwich/wraps and chips combos ($4.99). Though not served on artisan bread, they do include tempting fillings such as wild turkey, fresh tuna salad, roast beef, chicken salad or Virginia ham with a choice of provolone, Swiss or American cheese.

Click here for

Grace Café & Gallery
past & upcoming Art Festival Events!
---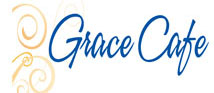 Grace Cafe and Galleries
75 N. Federal Highway
Dania Beach, FL 33004 | 954.816.3324